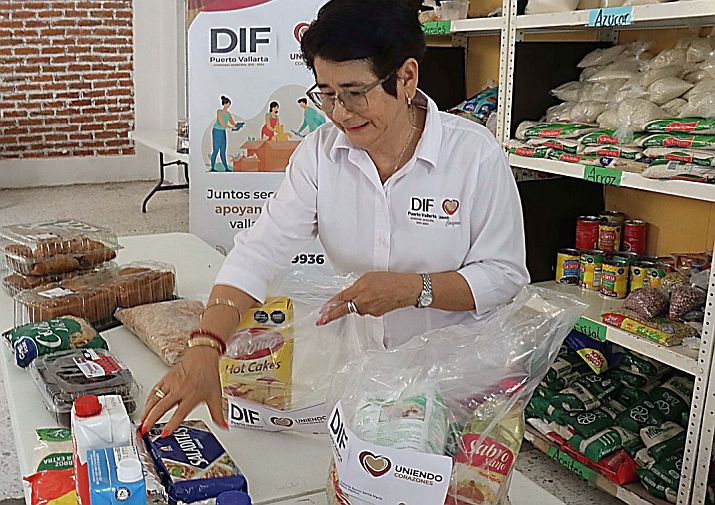 Puerto Vallarta, Mexico – As part of the city's rainy/hurricane season action plan, DIF president María de Jesús López Delgado invites all residents of Puerto Vallarta to join in a food drive to stock the 19 emergency shelters' pantries which, if so required, will feed those affected by a hurricane or storm.
María de Jesús called on "all Vallartenses to join this food donation campaign for the possible activation of temporary shelters. At the Municipal DIF we will be receiving you with all our hearts, you can bring your donations to help families living in risk areas during this rainy season, your help is a very important part of our preventive measures."
Donations of non-perishable food items, such as rice, beans, tuna, canned vegetables, soup and pasta; along with paper towels, bottled water and personal hygiene products, like soap, shampoo, toothbrush and toothpaste, baby food, diapers, powdered milk and bottles, as well as clothing in good condition for all ages, sheets and towels will be gratefully accepted.
Donations may be delivered to the central offices of the Municipal DIF System located at Av. Paseo de las Palmas S/N Col. Barrio Santa María, from Monday to Friday from 8:00 am to 4:00 pm. For more information, call 322-225-9936 ext. 161.
Likewise, she invited everyone to stay informed of weather conditions by official means, to heed the recommendations of Civil Protection, to prepare an emergency backpack with important documents, food, a lamp and radio, a first aid kit, etc., and to go to a safe area if necessary.