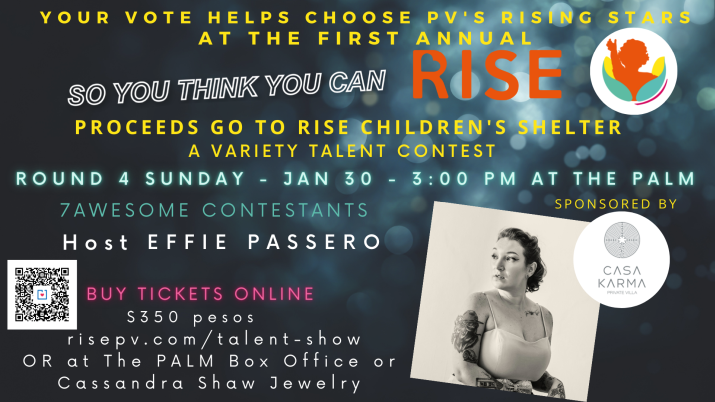 Puerto Vallarta, Jalisco, Mexico – Discover Puerto Vallarta's rising stars this Sunday, January 30 at 3:00 pm, as The Palm Cabaret hosts Round Four of So, You Think You Can RISE, a series of 7 Talent Shows modeled after America's Got Talent, to benefit the RISE Children's Shelter.
The contest consists of 6 Preliminary Rounds with the winner of each Round advancing to the Grand Finale at Teatro Vallarta on February 20th at 7:30 pm. Come select the next finalist in Round 4 this Sunday at The Palm Cabaret!
Round 3 was another fantastic event with the small, but mighty, 19-year-old singer Tay winning that round of competition. She will be joining Jo Reyes, a 25 year old pop singer with an amazing voice, who won Round 1, and the newly formed dance group, Ultimate Dance Company, who won Round 2, for the Grand Finale at Teatro Vallarta on February 20th.
If you missed the first three rounds of competition you won't want to miss the fourth one, which will feature 7 awesome contestants and be hosted by American Idol finalist Effie Passero, whose new show, "Badass Ballades," opens February 14 for a limited run at The Palm Cabaret.
This is your chance to support the kids at RISE and live entertainment in Puerto Vallarta. Make plans now to be at The Palm Cabaret on Sunday, January 30th at 3:00 pm, and be among the first to see some of the hidden talent we have here in Puerto Vallarta. All proceeds go to RISE Children's Shelter.
So, You Think You Can RISE – Round Four
Sunday, January 30th at 3:00 pm
The Palm Cabaret, 508 Olas Altas, Zona Romantica
Round 4 Contestants:
• Mauricio Andrade – Magician
• Lilieth Grace – 11-year-old, Solo Pop Singer
• Kathleen Naomi Atkins – Comedic Performer and Actress
• Edgar Zavala – Regional Mexican Singer
• Moises Chama – Solo singer, Spanish pop songs
• Enel Ram – Solo Singer, Unique Vocalist
• Eyes on Earth – Soulful Music Group
Can't make it this Sunday? Round 5 and 6 are around the corner, so get your tickets now. AND Don't forget to buy your Grand Finale tickets, so you don't miss the chance to be part of selecting the next PV SuperStar!
Preliminary Rounds are on Sundays at 3:00 pm, and the Grand Finale is on Sunday, February 20th at 7:30 pm. Buy tickets at risepv.com, at Cassandra Shaw Jewelry on Basilio Badillo, or The Palm Cabaret, at 508 Olas Altas in the heart of the Puerto Vallarta Romantic Zone.

R.I.S.E. (Refugio Infantil Santa Esperanza) is a privately funded, 50-bed children's shelter in Puerto Vallarta, providing a loving environment for children who are "at risk" at home or have no home. These resilient children range in age from newborn to mid-teens. For 20 years RISE has operated with a combination of a great staff and a team of volunteers that keep RISE running. RISE is 100% funded through private donations and fundraising is a huge part of our ability to provide these children with nutritional meals, education, medical and dental services, activities, clothing & more. Learn more at risepv.com.