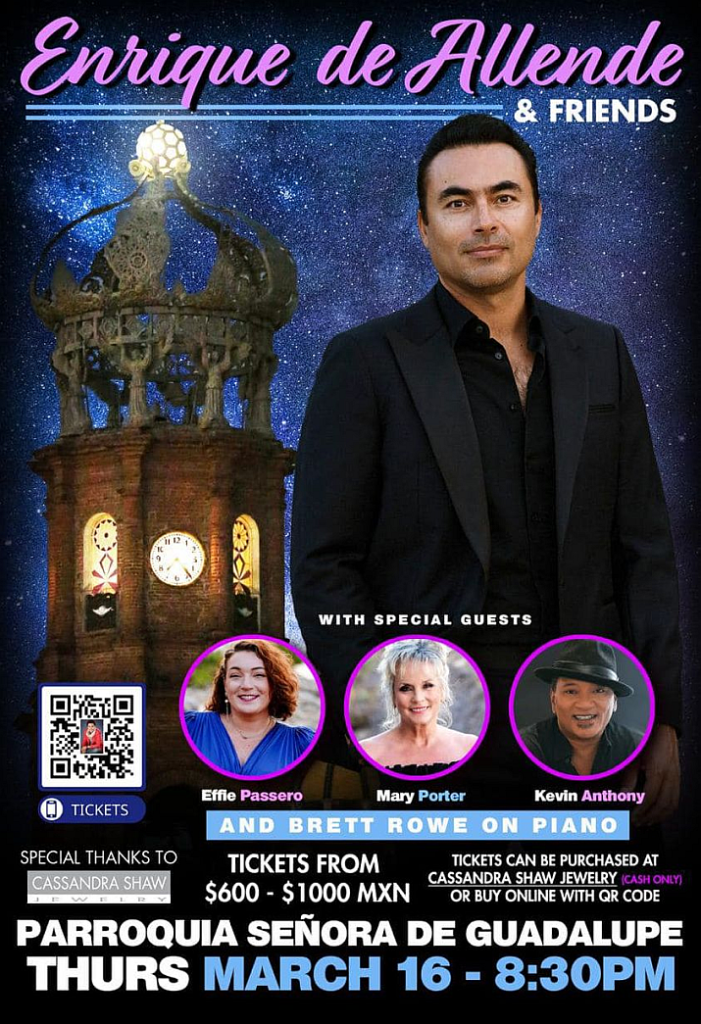 Puerto Vallarta, Mexico – Mexican vocalist extraordinaire Enrique de Allende, joined by guest stars Effie Passero, Mary Porter and Kevin Anthony, will present the performance "Enrique de Allende & Friends" on Thursday, March 16th at 8:30 pm at Vallarta's historic cathedral, The Church of Our Lady of Guadalupe. The fabulous pianist, Brett Rowe, will accompany these extraordinary singers throughout their performances.
This show will feature incredible songs delivered by the best of the best in music in a gorgeous setting with fantastic acoustics. The concert is a fundraiser for the restoration of the church's dome and iconic crown.
A singing sensation, Enrique is truly one of the most talented singers that Puerto Vallarta has ever hosted. His rich, clear, powerful vocals are beyond beautiful and his good looks, smile and friendly interaction with his audience make him an incredible entertainer.
Born in San Miguel de Allende, Mexico, Enrique de Allende has been singing and performing from an early age. His extraordinary vocals and heartfelt performances have been praised both here and abroad. Enrique's musical training includes seven years of lessons and coaching with the talented Seth Riggs, Erik Vitro and others. Well-known music producer David Foster says of Enrique: "It's the new Julio Iglesias, with a sweet but powerful voice."
As a versatile artist, Enrique interprets a wide range of music from Operatic to Big Band to Traditional Mexican Romantic and Mariachi music. Enrique's musical guests are all accomplished musicians in their own right. Mary Porter has a gorgeous voice and is an experienced performer, especially loving and contributing her talents to church songs. American Idol finalist and Post Modern Jukebox star, Effie Passero is always in high demand as an artist and has the most extraordinary voice. Kevin Anthony has a rich performing career that he's continued here in Vallarta at many venues around town. He is a sought-after headliner who is known for his spectacular R&B repertoire.
Some of Enrique de Allende's other upcoming shows include 2 different concerts on March 8 & 9 at 4 pm at Incanto Vallarta and concerts in Ajijic, Guadalajara & San Miguel de Allende. He will also be performing for a month in Europe this Summer and in Texas in the Fall. All this leads up to his debut show at Carnegie Hall, N.Y., N.Y. in the Fall.
Enrique has committed 15% of the proceeds from all of his concerts toward the 3 million peso renovation project at Vallarta's Nuestra Senora de Guadalupe (Church of Our Lady of Guadalupe).
"Enrique de Allende & Friends" happens on Thursday, March 16th at 8:30 pm at The Church of Our Lady of Guadalupe, otherwise known as the "Parroquia Senora de Guadalupe." For tickets to this spectacular event, go to Cassandra Shaw Jewelry on Basilio Badillo in Zona Romantica or scan the QR on the poster.