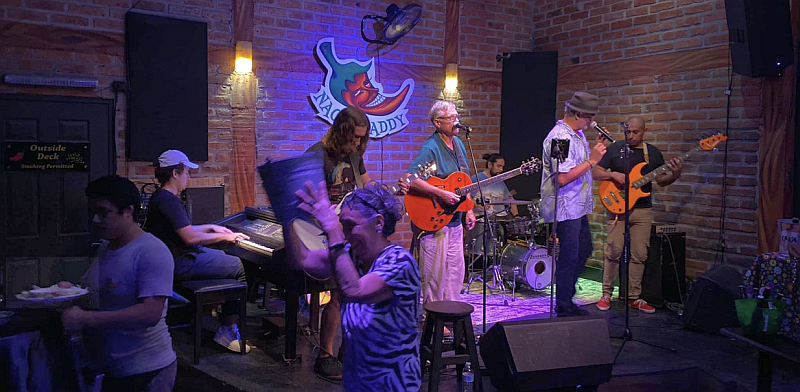 Puerto Vallarta, Mexico – Nacho Daddy continues to be a one-stop location for food and fun in Vallarta's Old Town district. You won't find friendlier people, more delicious food or better entertainment than at this favorite restaurant/bar/venue in the heart of Zona Romantica.
Drop in day or night to eat, drink and party. Open daily from 11 am to midnight, Nacho Daddy is the premier sports bar with 8 big-screen TVs. And it's also the place to go for affordable nightlife in Vallarta. It is located at 287 Basilio Badillo, just 2 blocks from the beach.
Happy Hour starts at 5:00 pm and you can enjoy Trivia Mondays, Poker Tuesdays, Bingo Wednesdays and many community-sponsored events. Nightly entertainment includes ticketed shows and top local bands.
Amy Armstrong returns this season with 2 shows. Amy, Simply the Best happens every Wednesday starting on December 23 at 7:00 pm and features Amy, Fernando Gonzalez, Mimi-Al Ramirez, and Eugenia Prieto on violin. On Saturdays at 7:00 pm, Amy and Fernando bring you Ouid: A Love Story with music, comedy and dispensary.
The multi-talented, Mikki Prost stars in Patsy Cline's Jukebox on Mondays at 6:00 pm.
On Tuesdays starting at 8:30 pm, Azafran! brings Gypsy Mexican and Bossa Nova music with a little spice featuring Eduardo Leon, Juan Ramirez and Danny Jimenez.
Wednesdays, the Las Mambas band entertains with new songs and new energy. Enjoy the band, and dancing, starting at 9:00 pm.
On Fridays, experience one of Vallarta's favorite bands, The Texas Embassy Blues Band, starting at 8:30 pm.
Sundays at 7:30 pm enjoy Kevin Anthony II and the Roxsand Band. This is an R&B, Soul Music and Dance Party!
For one night only, on December 27 at 8:00 pm, Diana Villamonte (from The Voice of Mexico) will sing her favorite songs of the season. This is a can't-miss event!
And, for 2 shows only, Debby Holiday presents Queens & Kings of Rock on Fridays, February 24 and March 2 at 7:00 pm. The daughter of songwriter/musician Jimmy Holiday, and a music star in her own right, Debby is an amazing performer!
Fun is waiting for you at Nacho Daddy in beautiful Zona Romantica, Puerto Vallarta!

Open daily from 11 am to 12 am for lunch, dinner, live music and lots of fun, this popular south side hangout is located at Basilio Badillo #287, only two blocks off the beach in the heart of the Romantic Zone. Credit cards accepted. For more information, visit NachoDaddy.mx or become a fan on their Facebook Page for promotions, daily specials and more.
Click HERE to learn more about Nacho Daddy Mexico Restaurant & Sports Bar.