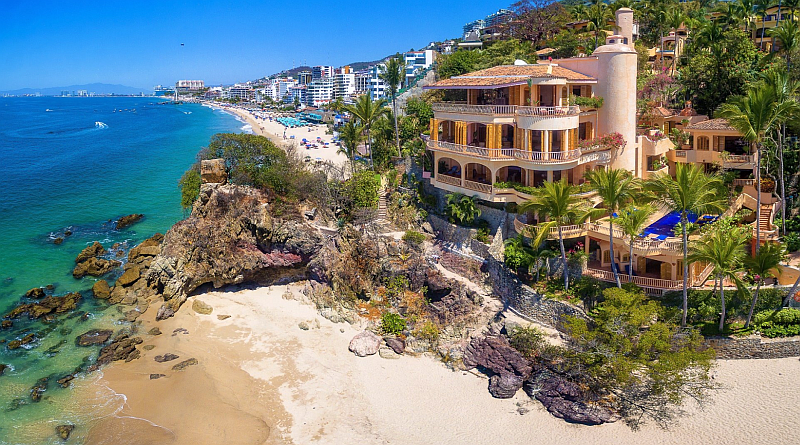 Puerto Vallarta, Mexico – The International Friendship Club (IFC) provides one of the most popular tourist activities in all of Puerto Vallarta, their always special Home Tours. So put on your walking shoes, grab your camera, and get ready to enjoy a fun-filled day of discovery, while giving a helping hand to the less fortunate in Puerto Vallarta and surrounding areas.
November 22, 2022 will be your first opportunity to take an IFC Home Tour this season. Tours will take place every Tuesday and Wednesday through April 4, 2023, except the weeks of Christmas and New Year's.
Each week our air-conditioned, comfortable buses will take you to three or four unique homes, ranging from small, traditional style casas to multi-million dollar beachfront condos and villas. Our knowledgeable docents lead each group. Most tours require the ability to walk on cobblestones and up and down stairs. The tours last for about three hours and cost $800 pesos.
The tours are consistently rated as "Excellent" on Trip Advisor. All of the profits from the tours are used to support IFC's cleft palate program, free dental treatments for folks in Boca De Tomatlan, RISE orphanage, the SETAC Community Center for HIV Prevention, the Puerto Vallarta Youth Orchestra, and many other programs that are essential for better health and education for residents of Puerto Vallarta.
Tours run weekly from the Sea Monkey Restaurant on the South Malecon in front of Condominiums Villa Vista Del Sol at Aquiles Serdan. Tickets must be purchased in advance online at ifcvallarta.org. Cost: $800 pesos. Tour guests must check-in from 9 am to 10:15 am and tours depart at 10:30 am sharp. Please bring your confirmation receipt with you, so you don't miss out!
Note: The International Friendship Club will adhere to the protocols of the State of Jalisco regarding the pandemic. Thus, the wearing of masks is OPTIONAL on our buses and at the Sea Monkey. Nevertheless, should some of our homeowners require the wearing of masks when we visit their homes, we must comply with that request and masks will be provided for your use.

The International Friendship Club is a registered charitable organization in Mexico listed as Club Internacional de la Amistad de Puerto Vallarta A.C. It is located at the northeast corner of the Rio Cuale Bridge above the HSBC Bank, Colonia El Centro, Puerto Vallarta, Jalisco, Mexico, 48300. Phone: 322-222-5466. Website: ifcvallarta.org Email: ifcvallarta(at)gmail.com