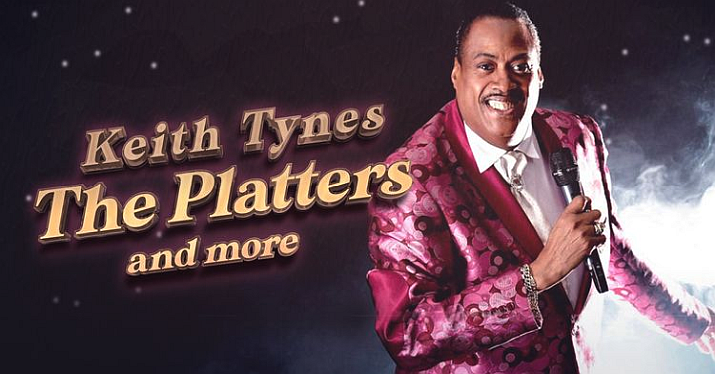 Puerto Vallarta, Mexico – In early February I heard performer Keith Tynes for the first time as he guest-starred at Bucerias' Soul Fest.
I knew then that I just had to see one of his full shows in Vallarta. That opportunity presented itself last Sunday evening at Act2PV as Keith presented an hour and a half of incredible R&B tunes to an enthusiastic and appreciative audience. Keith's next show at Act2PV is on Saturday, March 18th at 6:30 pm.
Keith Tynes is best known as a member of the famous R&B group, The Platters. He joined the group in his late teens and performed with them for almost 5 years as their tenor, crooning favorite songs like The Platters' classic, Only You.
Over the years, Keith has met and performed with many of the "greats" in the music biz. We enjoyed seeing pictures of Keith and many of these well-known entertainers in background videos as he performed throughout the evening. Keith has had a long and successful musical career and his voice is as fine now as it was when he started out.
Keith Tynes has spent the last 20 years living and performing in Europe, including Holland and Berlin, Germany. And for the past 5 winters, Keith has also performed at various entertainment venues in and around Puerto Vallarta.
Throughout Sunday's show, we heard fascinating stories of Keith's experiences with The Platters and other musicians. He thrilled us with familiar favorites like, Feeling Good, The Great Pretender, Smoke Gets In Your Eyes, Don't Rain On My Parade, You Were Always On My Mind, What's Going On, All Night Long, The Greatest Love, I Feel Good, Only You, The Twist, Unchained Melody (Oh My Love, My Darling) and Maybe This Time. Keith also beautifully delivered Jose Jose's classic Spanish hit, El Triste en Viro. After thunderous applause and a standing ovation, Keith ended the night with the inspirational tune, The Impossible Dream.
Was I impressed with the show? Absolutely! Keith is one of the best performers that I've seen in Vallarta over the years. He is the consummate entertainer, who loves performing for his audience. His stories are fascinating and his singing is incredible. When asked about his success in the music business, Keith says that he attributes it to hard work, great teachers/mentors and clean living. With a music career spanning 5 decades, Keith continues to deliver shows with enthusiasm, charisma and stellar vocals.
I highly recommend seeing one of Keith Tynes' shows while you're in Vallarta. He's performing at Act2PV next Saturday, March 18th at 6:30 pm. You can also see Keith at La Catrina Cantina in Zona Romantica on Tuesdays at 7:30 pm and Thursdays at 8 pm. If you are a fan of spectacular R&B music, make sure to catch one of Keith's performances while you're in Vallarta. For more information about Keith Tynes, visit his website.

The Act2PV Entertainment complex is located on the corner of Insurgentes and Basilio Badillo on the South side of Puerto Vallarta. For more information, call (322) 222-1512, or follow Act II on Facebook.