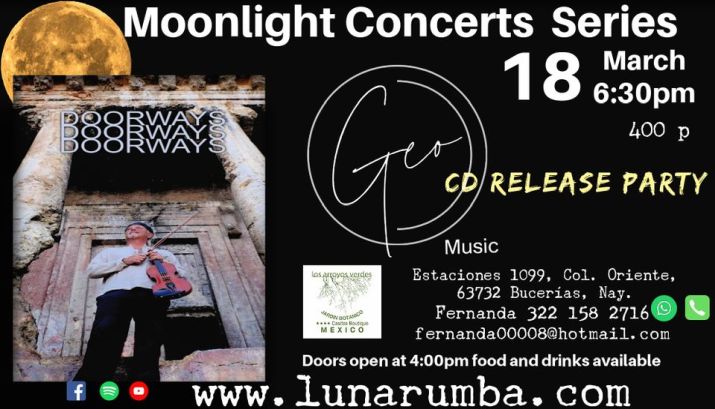 Bucerías, Nayarit – Luna Rumba Productions in association with Los Arroyos Verdes presents The Moonlight Concert Series, CD Release Party: Doorways on Friday, March 18th at 6:30 pm.
It has been a long time coming (nearly two years), but Geo Uhrich has returned with a new collection of music; songs inspired by his and Fernanda's travels to Turkey and the past three years sailing in various parts of the world. The music keeps flowing! Geo calls his latest music a gift from the other side. He combines inspiration with a sharing of life's journeys and moments.
Perhaps Geo's new CD, Doorways has come at the right time to inspire and encourage us through these challenging times. Each song is a doorway to a certain feeling and emotional landscape. Music creates a unique way to express and recall feelings and is always there to fill up the empty space. It is so deeply rooted in our lives that we look to music for comfort, enlightenment, love and growth.
Step through the Doorway to enjoy a concert celebrating an album filled with the soothing, melancholy sounds of violin, piano, drums, flute and more! The violin is the star that weaves stories of passion and love that will touch your soul, beckoning the spirit and satisfying its longings. Simple melodies are enhanced with a flurry of instrumental tracks that support the skillful, smooth and rich violin woven expertly through each song. The threads of Middle Eastern travel and music are evident and powerfully grip the spirit throughout this musical experience.
Heartfelt, sincere and soulful musical themes are enhanced by the incredible looping of vocals, percussion, strings and flute. Call to Prayer and Espiritu de Amor are hypnotic, thrilling and completely satisfying. You'll enjoy the influence of Gypsy Jazz, Latin Music, Middle Eastern Chant and more that creates the perfect World Music experience. Geo Uhrich has once again created an award-winning, from-the-heart, dynamic masterpiece in 'Doorways.'
Join Luna Rumba Productions for this very special 'live' performance of Doorways in the idyllic setting of Los Arroyos Verdes in Bucerias on on Friday, March 18th at 6:30 pm. Door open at 4:00 pm. Food and drinks available for purchase.
Doorways will share Geo's latest compositions in the wonderful setting at Los Arroyos Verdes. If you have already purchased a ticket for January, it will be automatically good for the March date.
Tickets are 400 pesos per person and are available online at: lunarumba.com or by contacting Fernanda Fenton at Fernanda00008(at)hotmail.com or 322-158-2716.
You can also purchase tickets at Los Arroyos Verdes, located at Estaciones 1099, Col. Oriente, 63732 Bucerías, Nayarit. Phone: 329-298-6314.