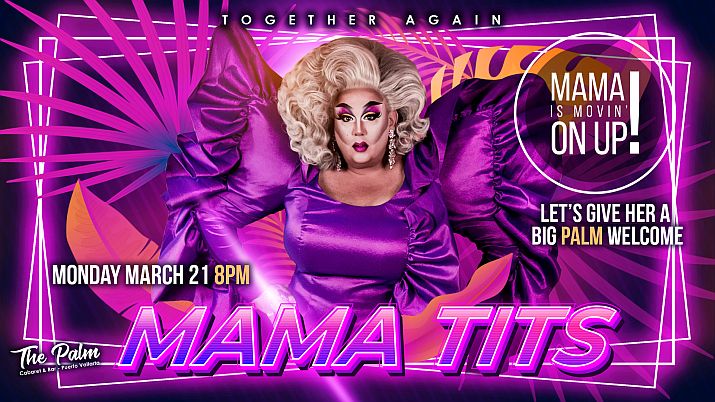 April 11, 2022 Update: Mama Tits seems to be thrilled and feeling right at home at The Palm Cabaret and Bar. Flamboyant, Soulful, Reflective, Defiant, Brave, Sexual and Always Hilariously Crass, audiences just love their Mama. Her show combines incredible vocals with heartfelt stories and lessons that touch everyone willing to listen and open their hearts and minds. Geared toward the gay audience, there's still a lot to learn, appreciate and enjoy for everyone that attends. The language is R rated, but the show is L rated for Love. Everyone can benefit from listening to their Mama! She's wickedly wise and oh so funny. And this Mama can singggg! With the addition of Vallarta vocalist, Diego Guerrero, this show is a must-see! Saturdays at 8:00 pm.
Puerto Vallarta, Mexico – Back for her 7th season in Puerto Vallarta, Mama Tits is bigger than life and her audience numbers continue to prove it show after show! Mama Tits will now bring her special brand of Drag entertainment to The Palm Cabaret and Bar. You'll love this Vallarta legend as she entertains with her raw and amusing take on topics like politics, sex, relationships and living your truth.
Mama Tits is thrilled to be able to share her soulful singing, fascinating stories and comedic quick wit with audiences at The Palm. You can't help but be touched and changed by Mama as she shares her heartfelt truth with love, emotion and passion! Talented Puerto Vallarta musician, Diego Guerrero adds beautiful harmonies, as Mama Tits offers up some inspirational songs that accompany her truth-telling.
Mama Tits continues to be one of the top drag divas of Puerto Vallarta, with sold-out shows almost every night throughout her seven-year tenure in Zona Romantica. Mama is always outspoken and not afraid to speak her mind. She is known for her strong, gorgeous voice and soulful blues sound!
As an award-winning Drag Performer (winning Seattle's Best Drag Queen of 2016), Mama Tits was the owner and producer of the #1 Drag Brunch in the Pacific Northwest. Headlining Pride Festivals throughout the USA, she has also won numerous awards for her shows and has been in demand for private events and tour dates over the past 20 years.
Mama Tits is beloved by her many fans and admirers. Her show is a personal history of her life, her struggles and her triumphs and is a window into gay culture and history. Mama entertains throughout her performance with 'live singing,' authentic sharing and a great pep talk about standing tall and being true to oneself. She's a bit like 'Dear Abby,' except a lot taller!
With honesty and courage, Mama tells it like it is and challenges each one of us to hold our heads high and be proud! She reminds us that we are strong enough to deal with whatever life brings our way, especially when we support each other. And she is living proof of that!
Let Mama Tits take you on a beautiful journey. Gay or Straight, Young or Old, you'll leave her show with a new outlook, a more open heart and the courage to accept yourself and others more completely.
You can catch Mama Tits' show at The Palm Cabaret on Saturdays at 8:00 pm.
Tickets can be purchased at the venue's box office, or online at ThePalmCabaret.com. For your safety, the venue has added ventilation, social distancing and reduced capacity. Masks and vaccination certifications are required. This means you can feel comfortable while enjoying all of the great performances at The Palm.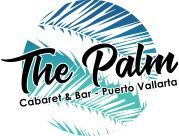 The Palm Cabaret and Bar is located at 508 Olas Altas in the heart of the Puerto Vallarta Romantic Zone. Tickets can be purchased at the venue's box office, which opens daily at 10:00 am, or online at ThePalmCabaret.com.
For more information, click HERE, call (322) 222-0200, visit their website, or follow The Palm Cabaret and Bar PVR on Facebook.