Puerto Vallarta, Mexico – The Instituto de Artes Musicales Puerto Vallarta (IAMPV) is thrilled to welcome the very talented Aquiles Morales to the conductor's podium at the Vallarta Symphony Orchestra's upcoming 'Fuego de Primavera' concerts on March 26 and 27.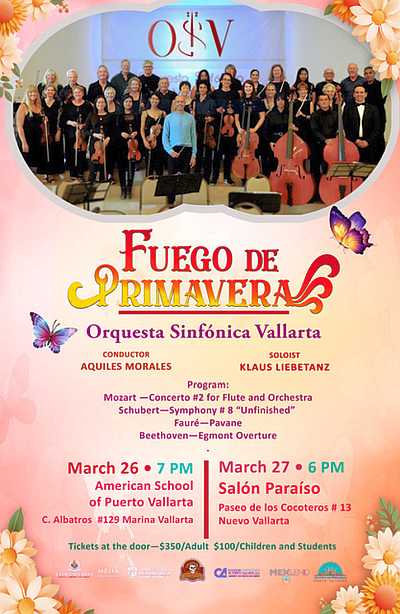 The March 26 & 27 concerts will feature soloist Klaus Liebetanz, a protégé of two of the greatest Twentieth Century flutists, Marcel Moyse and his son, Louis Moyse. For six years Klaus distinguished the Orquesta Sinfonica Vallarta (OSV) by serving as the orchestra's Principal Flutist prior to moving to Spain in May 2022.
Orchestra program highlights:
• Mozart- Concerto #2 for Flute & Orchestra • Schubert – Symphony #8 "Unfinished" • Fauré – Pavane • Beethoven – Egmont Overture
Don't miss the Vallarta Symphony Orchestra's 'Fuego de Primavera' concerts on March 26 and 27.
The Sunday, March 26 performance will be at The American School of Puerto Vallarta, Albatros 129 in Marina Vallarta.
However, for a definitely SUPERIOR LISTENING EXPERIENCE, the Monday, March 27 performance is the way to go – it will be held in Paradise Village/Nuevo Vallarta, at the Salon Paraiso/Harkness Institute, Paseo de Los Cocoteros #13. The acoustics are superlative and the room is really elegant and beautiful.
The Saturday, March 26 Concert starts at 7:00 pm, while the Sunday, March 26 performance starts at 6:00 pm. Tickets, which cost $350 pesos for general admission and $100 pesos for kids and students, will be available at the door.
Event proceeds will help the Institute of Musical Arts finance the educational and musical projects that comprise it, like the Vallarta Symphony Orchestra, Flute Ensemble and the Salty Paw Jazz Orchestra, which is a student Big Band group that has been performing throughout the entire Banderas Bay area.
Come out and enjoy some great music, while supporting music education for the children of Puerto Vallarta.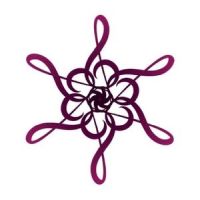 IAMPV (Instituto de Artes Musicales Puerto Vallarta) is a non-profit educational music institute whose mission is to bring the joy of music to children and young adults in the greater Banderas Bay area. This is accomplished through a comprehensive program with many levels of instruction and different musical disciplines. Musical instruments are provided to beginning students.
For more information about the concerts, IAMPV programs, or how you can participate, visit IAMPV.org, or IAMPuertoVallarta on Facebook.