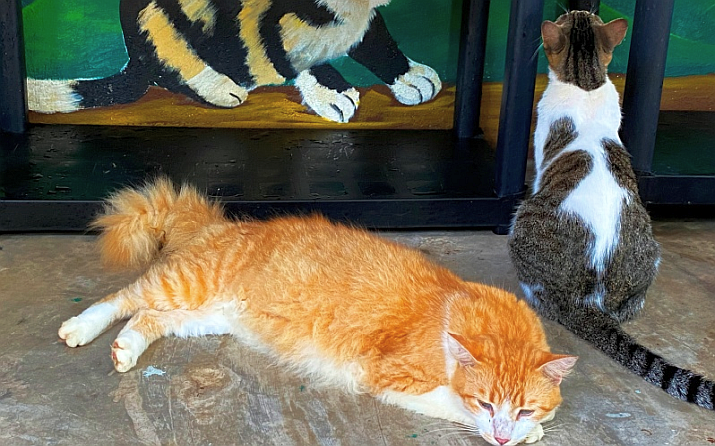 Puerto Vallarta, Mexico – The latest news from PuRR Project, a non-profit, no-kill feline shelter just north of Puerto Vallarta that provides homeless cats and kittens a recuperative stay with the ultimate goal of adopting them out to loving homes sterilized, vaccinated and disease free.
MR. PICKLES' JOURNEY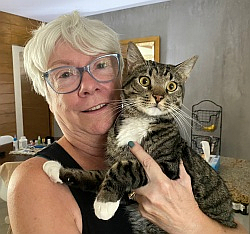 When Bobbi and Mike Ireland saw the article on Mr. Pickles in the February newsletter, they arranged a trip to the PuRR shelter to meet this handsome 2-year old boy and quickly decided to adopt him. He now has a new name, "Mac" and a new Forever Home in Nanaimo, BC. We were somewhat concerned because we had never had a cat travel in cargo but that was the only space available on West Jet when they returned. They liked that West Jet informed them when Mac was safely boarded on each leg.
The trip involved an overnight stay at a cat-friendly hotel at the Vancouver airport before the short flight to Nanaimo the next morning. Mike reports that Mac was a very cool, calm traveler throughout the journey. He is now adjusting to his new environment and his two new siblings, including another Mexican rescue cat. Mr. Pickles quickly became a favorite of volunteers when he came to the shelter last December. We are all so thrilled that he now has such a loving home.
LOVIE'S JOURNEY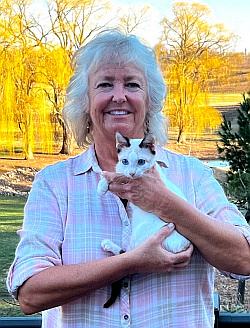 PuRR Project USA board member Laurie Mackenthun visited the shelter in January and spent time with a bunch of new kittens that had been left at the gate in a bag. She managed to catch Lovie who hissed and growled but within a few minutes had settled down for some loving! On her next visit he was becoming more social and she decided to adopt him as soon as he finished all his medical protocols. One minor issue was that she and her husband had flown down on Sun Country Air and they do not allow pets in their aircraft.
Thankfully, PuRR President Monica Pence was also visiting and offered to take him back with her to Chicago, so that was arranged. When Laurie and Kim returned to Minnesota for the season a few weeks later, she and Monica decided to meet halfway between Chicago and Waconia, MN in the small town of New Lisbon, Wisconsin. It would be a 4 hour drive for each. So on March 27th they met in a bank parking lot for the "kitty transfer" and Lovie then made the final 4 hour drive to his Forever Home. Laurie reports: "Lovie has adjusted perfectly and he's thriving. We love him."
UPCOMING EVENTS: KITTY BINGO
Come and join us at Nacho Daddy's on Wednesday, May 3 for another Kitty BINGO! Games start at 4:00 pm. We held the first one in three years on April 19 and decided to do it again! It's a great way to support the shelter while having some fun and winning some really nice prizes… plus there's a 50/50 Raffle.
MORE ADOPTION STORIES
We are so thankful to have had such a great response to the adoption of some of our older felines! Here are a few recent ones: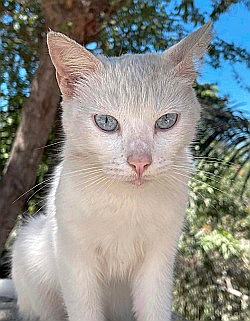 ANA: PuRR volunteer Susan Malone found this beautiful girl behind her home and after many FaceBook posts, could not find the owner so she went to live at the shelter. But the FB posts paid off when visitor Lynne Fedina decided to give her a Forever Home in Seattle! She was flying back with Alaska Airlines which is very pet-friendly and a Pet-In-Cabin reservation was quickly made.
BOB CAT: A beautiful Lynx Point Siamese, Bob was discovered by Lucy Embree in her back garden. She thought he might be someone's pet but no owner was found and he came to live at PuRR last October. Sharon Martin had seen the FB posts about Ana, but when she found out Ana had already been adopted, she asked to meet Bob Cat (our Featured Feline in March). He is now at his Forever Home in Walla Walla, WA with Sharon! She reports: "He is such a sweet boy and taking his time to realize he is loved and never going anywhere else. Loves his scratches and being brushed. I already love him."
GRACIAS! THANKS! MERCI! DANKE! ARIGATO!
The PuRR kitties send a BIG Muchas Gracias to Cherri Gilmore, Trisha Aljoe, Terri & Gray Levy, Anne Middleton and Chris & Lynn Stocker for their generous donations in April! We are always thankful for our regular donors: Sharon & Ken Rose, Gary Phillips, McCullough Charitable Fund, Joanne Bryla, Pat & Sandy Glenn, Catherine Goglia & Jim Shoemaker, Heidi Benedict, Larry Sherwood, Robert Weed, Timothy Oleno, Jerry Petrizzo, Janice North and Elizabeth Fuerherm.
For more Kitty News & Photos, please visit PurrProject.com.

PuRR Project is a Non-Profit shelter in Puerto Vallarta, Mexico that provides homeless cats and kittens a recuperative stay with the ultimate goal to adopt them out to loving homes. All of our residents have been sterilized, vaccinated and are disease free. We accomplish this through our own efforts as well as collaboratively with other animal welfare organizations. Both monetary donations as well as donations of dry cat food are most welcome – and much appreciated. Donations 501(c)(3) tax-deductible in the U.S. For more information, visit PurrProject.com or send an email to info(at)purrproject.com.