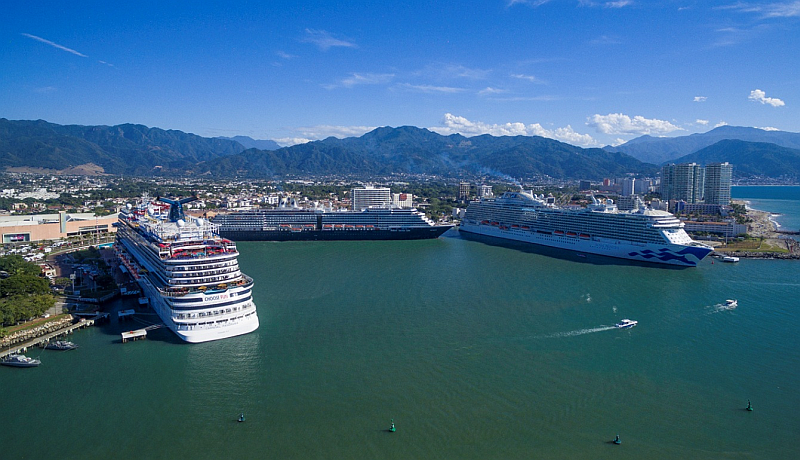 Puerto Vallarta received almost 223,000 international passengers on 73 cruise ships in the first quarter of 2023, according to the Administration of the National Port System (Asipona). This is more than double the number of registered passengers in the same period of 2022, when 103,644 passengers arrived on 57 cruises.
In January, the port saw the arrival of 30 cruise ships, bringing around 90,000 passengers to this port city. In February, 19 cruise ships brought just over 60,000 passengers to Puerto Vallarta. And in March, Asipona registered 72,537 tourists from 22 boats. The average passenger reportedly spends $120 USD during their visit.
ASIPONA has announced that at least 200 cruise ships will arrive at the Puerto Vallarta maritime terminal this year, bringing an estimated 350,000 passengers, and around $42 million dollars to the city.
According to data from the Ministry of Tourism, in 2022 the Pacific coastal city ranked fifth in number of cruise passenger arrivals, after the ports of Cozumel, Majahual, Ensenada and Los Cabos. These five ports receive 94.6% of all cruise passengers arriving in Mexico.
Puerto Vallarta is also a popular destination for domestic and foreign visitors arriving by air.
During the first three months of the year, the Puerto Vallarta International Airport exceeded 2 million passengers, which means an increase of 29.4% compared to the same period last year. During this period, the airport welcomed national passengers and 1,378,100 international passengers. In total, the first quarter of the year added 2,017,800 air passengers, an increase of 29.4% compared to the first quarter of 2022, where 1,559,800 travelers were recorded.
Sources: Asipona PV • Pasillo Turistico