Puerto Vallarta, Mexico – November kicks off a new season of Purr-fectly wonderful events to support the 180+ cats and kittens at PuRR Project, Puerto Vallarta's non-profit feline shelter. The fun starts Nov. 9 with a HUGE Garage Sale, and continues with the return of PuRR Shelter Tours, and Kitty BINGO!
SHELTER UPDATE
Just when we thought we had finally made it through the worst of Vallarta's rainy season, Tropical Storm Priscilla blew in on October 20. The canals on three sides of the ranch overflowed and the shelter was badly flooded. The cats and kittens got soaking wet, which did not make them happy but, other than that, they weathered the storm.
The muddy mess was eventually cleaned up by José and Hilda but the cat trees and all the toys were trashed. (Thank you to all the folks who responded with donations to replace them and we are having wooden trees built that do not collapse when wet!) In the middle of all this confusion, someone dumped a cat having babies at the front gate! Fortunately, Dra. Eva was there and got mama into a safe, dry spot and three of her babies survived.
ADOPTIONS
November 1st marks one year since the Puerto Vallarta PetCo opened its doors and also its weekend Adoption Center for cats and dogs. Every Friday morning, a PuRR volunteer brings five or six of our kitties – vaccinated, spayed or neutered, and ready for a Forever Home – to PetCo, and we've been fortunate to find loving homes for 85 of them!
However, in that same year, the shelter took in a record 178 new cats and kittens. Some did not survive, some now live in the yard, and about 27 of them were adopted though Facebook or other avenues. The ones who end up in the yard will be given food, medical care, and a safe place to live out their lives in dignity… our Mission at PuRR Project.
UPCOMING EVENTS
DAIQUIRI DICK'S ADOPTION POST: PuRR Project volunteers will return to Daiquiri Dick's on Saturday, November 2 and will be there every Saturday at 10:00 am through the season (except for the weekend of the Garage Sale, November 9th) with adorable kitties to pet or adopt and lots of Logo T-shirts, caps, 2020 Calendars and other goodies… including the new PuRR Project coffee cups, all of which make great Christmas gifts. If you can't make it on a Saturday, you can pick up your 2020 PuRR Calendar anytime at the Daiquiri Dick's hostess desk.
Garage Sale: Saturday, November 9th from 9:00 am to 3:00 pm at Gaviotas 143 in Marina Vallarta. This is always a HUGE sale with all kinds of donated items at fabulous prices!
Shelter Tours: We are ready for you! Tour dates and tour guides are set! Superior Tours has their best vans and drivers competing for this job! José and Hilda are scrubbing and spiffing up the grounds, and the cats have been warned to be on their best behavior, so all YOU have to do is go to our website and make your reservation.
Tours dates for 2019 are Nov. 13 & 27 and Dec. 11 & 26 and every other Wednesday morning through April 1, 2020. Between getting to meet 200 cats and kittens up close and stopping for fabulous tacos in a quaint village, there is no other way you can spend such a fun morning for only $20 dollars!
Kitty Bingo: Starts Wednesday, November 20 at 4:00 at Nacho Daddy, located in Old Town at Basilio Badillo 287. They have a special menu and margaritas just for BINGO players! We've been collecting great prizes for winners and also have the popular 50/50 Raffle, so come join us for a fun way to support the PuRR kitties!
Beach Luau at Sea Monkey: Friday, December 13 at 5:00 pm and only $400 pesos. This one is always a lot of fun with a delicious buffet, great raffle prizes and of course the Polynesian dancers (and a prize for best hula dancer!)… all on a beautiful beach at sunset! Contact Marilyn at exkhan(at)usfamily.net for tickets. 100% of proceeds from this one go to PuRR thanks to Troy Valens who provides all the food and drink!
Donations and fund raising events like these are the only sources of financing to provide food, shelter and veterinary care for the 180+ cats and kittens in residence at PuRR Project so, if you live in Puerto Vallarta or plan to visit this winter, make plans to join in the fun, while supporting the shelter.
If you are not going to be in town, it's easy to choose a way to donate on our website… from scheduled donations through PayPal, Virtually Adopting a cat, or entering "PURR PROJECT USA, Milton DE" when doing your holiday shopping on Amazon Smile, where a percentage of your purchases will be donated to PuRR Project, a 501(c)3 non-profit with tax exempt status.
For more Kitty News, please visit PurrProject.com.
---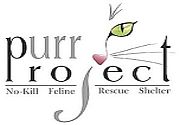 PuRR Project is a Non-Profit shelter in Puerto Vallarta, Mexico that provides homeless cats and kittens a recuperative stay with the ultimate goal to adopt them out to loving homes. All of our residents have been sterilized, vaccinated and are disease free. We accomplish this through our own efforts as well as collaboratively with other animal welfare organizations. Both monetary donations as well as donations of dry cat food are most welcome – and much appreciated. For more information, visit PuRRProject.com or send an email to info(at)PurrProject.com.