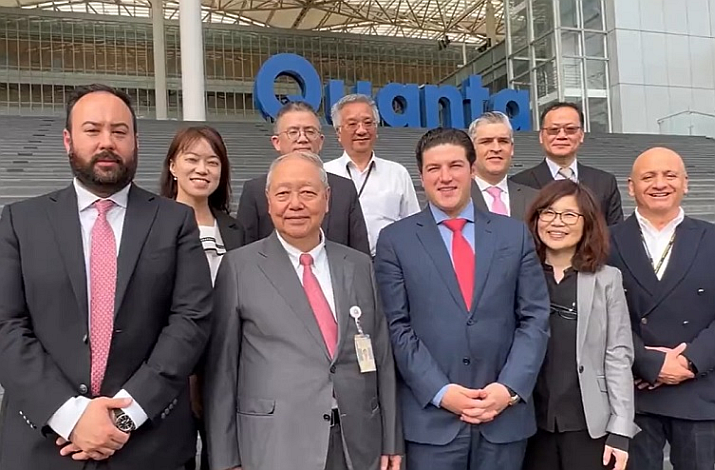 Taiwanese electronics manufacturer, Quanta Computer, plans to invest an additional US$1 billion in Nuevo León to expand its operations in the northern Mexico state, where the company has already invested nearly $500 million and generated 2,500 jobs.
Nuevo León Governor Samuel Garcia announced the investment on his Twitter page on Wednesday, saying, "These investments are the result of the ECONOMIC BOOM that we are experiencing in Nuevo León. It is Nuevo León's Moment". He also posted photos of a meeting with the company's executives, including one of him shaking hands with Quanta Computer's Vice Chairman, C.C. Leung.
Quanta Computer is recognized as the world's leading computer manufacturer, with prominent clients such as Apple, Dell, HP and Sony, and a key supplier to renowned electric vehicle manufacturer, Tesla. This investment in Nuevo León aligns with Tesla's plans to establish a $5 billion factory in the city of Monterrey, signaling a collaborative effort to propel the region's electric vehicle ecosystem.
In an interview with AFP in March, Garcia said production of Tesla electric vehicles could begin next January at the giant plant.
He added that he hoped the investment would create 7,000 direct jobs in Monterrey – and 40-50,000 indirect ones, as Tesla was expected to bring with it many of the companies that make parts for its vehicles.
The movement of companies from other parts of the world to just south of the US – a practice known as nearshoring – has generated a buzz around Mexico's production possibilities.
Speaking from Quanta Computer's Mexican headquarters in the state capital, Monterrey, Garcia said the investment reflected the potential of nearshoring and was a sign of an "economic boom" in the state.
Between November and February, around 30 Tesla suppliers arrived in the region, Garcia said.