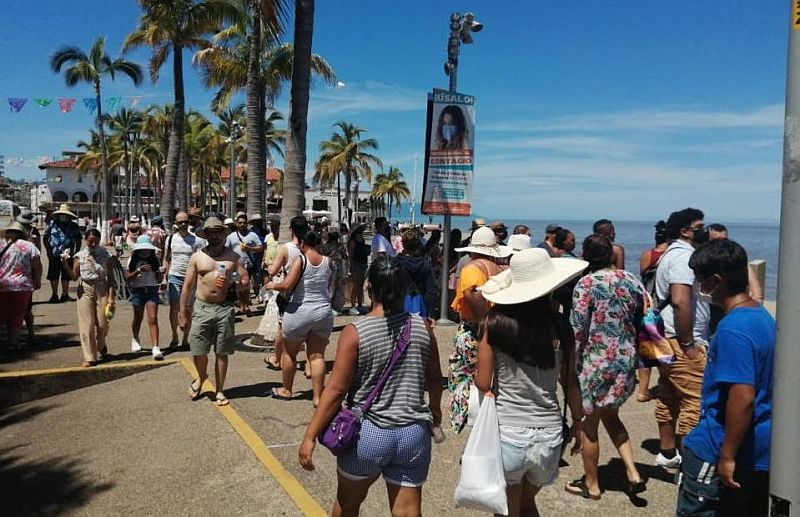 Puerto Vallarta has established itself as one of national and international tourists' favorite beach vacation destinations, as proven by the record number of visitors that arrived during the first half of the year.
The national market continues to consider Puerto Vallarta a favorite place for vacation. From January to June 2022 a total of 1,190,700 domestic passengers arrived at the PVR International Airport, compared to 831,300 in 2019 – an increase of 43.2%. Passenger numbers were also impressive in during the first half of 2021, with a record 753,500 arrivals representing an increase of 58.8%.
International visitors have also maintained their fondness for this destination, with more than 1,900,000 passengers arriving during the first half of the year. This is a 108.4% increase over the same period of last year, when 928,200 visitors arrived to Puerto Vallarta by air.
Together these two markets have brought a record 3,125,300 visitors to Puerto Vallarta during the first six months of the 2022, compared to 2,801,900 in the first half of 2019, and 1,681,800 passengers in the same period of 2021, representing increases of 11.5% and 85.8% respectively.
The expectation is to exceed 6 million air passenger arrivals by the end of the year, which does not represent a figure of recovery, but of growth.
Puerto Vallarta currently has 12 national air routes, 23 from the United States, 14 from Canada and 2 from Europe.
Similarly, Puerto Vallarta has welcomed a total of 106,289 passengers by sea through the 95 cruise ships that have arrived at the port during the first half of this year. The expectation for 2022 is to exceed the number of arrivals in 2019, when 181 vessels arrived with a total of 482,335 passengers.
Without a doubt, Puerto Vallarta has achieved record numbers of tourists this year thanks to the natural charms it has to offer, the vast range of hotels, restaurants and tourist services, among many other reasons.