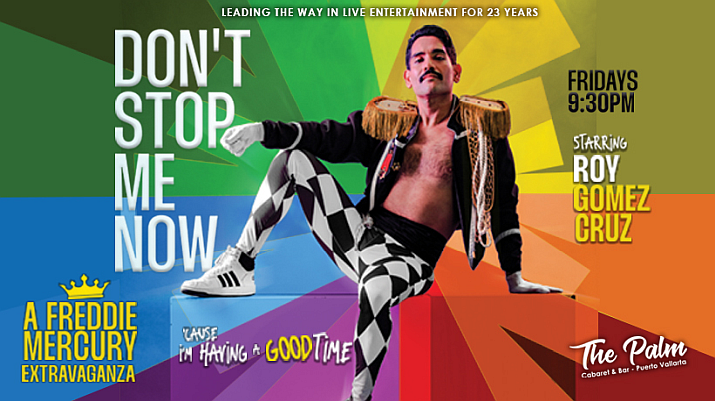 Puerto Vallarta, Mexico – Roy Gomez Cruz arrived 3 seasons ago with his Queen Live Forever show that took performance to a new level in PV. The next season, Roy introduced a new show, I Want It All: The Freddie Mercury Story, which quickly became another smash hit. He once again delivered powerful vocals, Queen hits and an incredible live entertainment experience. I Want It All continues to be a breathtaking musical event happening every Tuesday at 6 pm.
This season, Roy has introduced another fabulous tribute to the extraordinary talent and career of Freddie Mercury in his new show, Don't Stop Me Now, which he performs every Friday at 9:30 pm. This new performance adds new videos, choreography and songs that expand our enjoyment and understanding of Queen's legendary performer.
We experience not just one, but three additional Freddies as the show opens. The dancers/acrobats are Francisco Guízar, Bryan Santana and Joshua Ryan (choreographer), with Chris Lopez as artistic director and Sébastien Lepage as sound editor. Roy, along with his three male dancers, perform their tribute dressed as the legend. This unique, but very effective show communicates the emotion and power of Freddie's music, sexuality and the cultural shift that he was responsible for helping to create.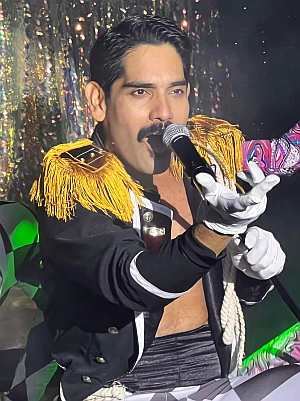 Don't Stop Me Now takes you on an energetic, visual and emotional journey through the songs and life events that made Freddie Mercury larger than life. Roy Gomez Cruz's powerful vocals and unbelievable impersonation bring you as close as you'll ever be to this rock icon. His professional musical and performance training really shines through in his portrayal of one of Rock's Superstars.
Not only does Roy sing every song authentically, but his costumes, style, persona and audience engagement all measure up to the legendary Freddie Mercury. Several times during the show, Roy also accompanies himself on the piano, just like the iconic Freddie Mercury did in his concerts.
With incredible video footage of Queen concerts and interviews in the background, the show entertains and educates the audience about this totally unique and groundbreaking star. The concert takes the audience through Freddie's transformation into an eternal legend.
Tribute shows are popular in Vallarta and Don't Stop Me Now is one of the best! Roy and the boys thrill with breathtaking renditions and interpretations of favorites like Crazy Little Thing Called Love, I Want to Break Free, Love of My Life, Don't Stop Me Now, We Are the Champions, Radio Gaga and of course, Bohemian Rhapsody, and more! Roy also entertains with a few lesser-known, but equally moving Queen songs.
Throughout this exciting performance, Roy communicates directly with the audience involving them with singing, arm waving and the kind of back and forth that Freddie Mercury, himself, always had with the crowd. He also included a birthday girl from the audience in a hilarious musical skit on stage!
This show is a thrill a minute, brought to you by one of the most creative, musical professionals that I have ever had the privilege to witness. Roy Gomez Cruz is truly Freddie Mercury for more than an hour twice weekly at The Palm Cabaret. Don't miss these spectacular performances!
Don't Stop Me Now, Roy's most recent creation, happens every Friday at 9:30 pm and his popular I Want It All tribute is performed every Tuesday at 6 pm.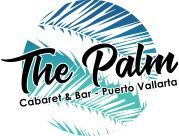 The Palm Cabaret and Bar is located at 508 Olas Altas in the heart of the Puerto Vallarta Romantic Zone. Tickets can be purchased at the venue's box office, which opens daily at 11:00 am, or online at ThePalmCabaret.com.
For more information call 322-222-0200, visit their website, or follow The Palm Cabaret and Bar PVR on Facebook.