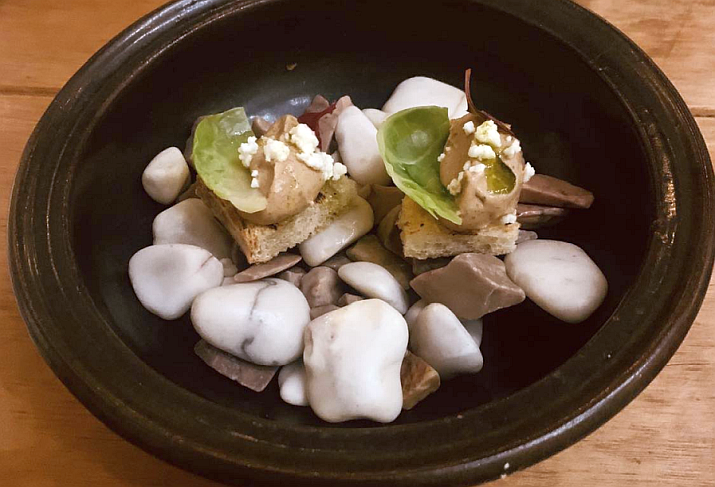 Puerto Vallarta, Mexico – I've lived in Puerto Vallarta for over twelve years and have visited here for twenty years before that. It takes quite a lot to say that I may have found my new favorite restaurant. I'll need to return a few more times to make that judgment, but based on my virgin experience there last week, Homun will definitely be in my top three.
I love the charm of this relatively new Versailles eatery. The seating in the interior front of the restaurant, along with the open kitchen, is charming, but make reservations for one of the tables in the magical garden terrace at the back, weather permitting.
I must start with their bar menu. What an inventive collection of house cocktails and classics. I hadn't had an Old Fashioned ($175 pesos) in decades, but their perfectly mixed one might just make me return to bourbon. Their house wine-by-the-glass is very reasonable and full-bodied at $110 pesos.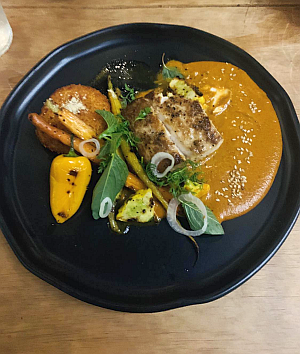 Before I venture into the food arena, I must give a shout-out to the staff. Our servers, Charley and Ezekiel, were outstanding. Charley knew every nuance of the menu selections and made recommendations that were often the least expensive of our choices.
It's always a great opening when they serve you a complimentary amuse-bouche. Their Crostini with Cauliflower Puree & Feta Cheese tasted like a luscious pate with its rich texture and rolling flavors.
We began by sharing the Soft-Shell Crab Taco ($145 pesos) with chile guero aioli and a tangle of cabbage and criollo corn. Last week I wrote about being nervous about ordering my favorite foods when I haven't found very many good ones in Vallarta yet. Finally, I found it at Homun. This was cooked perfectly, was large enough to share, and touched every taste bud. Their appetizer menu has an amazing range of items to choose from.
We didn't choose one of their pizzas, but the one I saw beside me looked delicious. I decided on the Catch-of-the-Day ($375 pesos) for my entrée. Served with a green mole sauce and roasted vegetables, this buttery fish was exceptional. Next time I want to try the Grilled Ribeye Burger ($310 pesos) or the Asian BBQ Pork Ribs ($395 pesos).
My partner ordered the Grilled Octopus ($395 pesos). I'm not usually an octopus fan, but this was the most tender I've ever tasted served in a creamy vichyssoise with chayote, bacon and baby corn.
This is my first five-star review, and I hope you venture there soon to experience it.
I give Homun:

Viena 198 – Versailles, 48310
Open Tues-Sat 6:00-11:30 PM
Reservations: 322-243-3044
I welcome your comments or suggestions of restaurants to try at thehungrycriticPV(at)gmail.com.
Click HERE to read more Puerto Vallarta restaurant reviews.