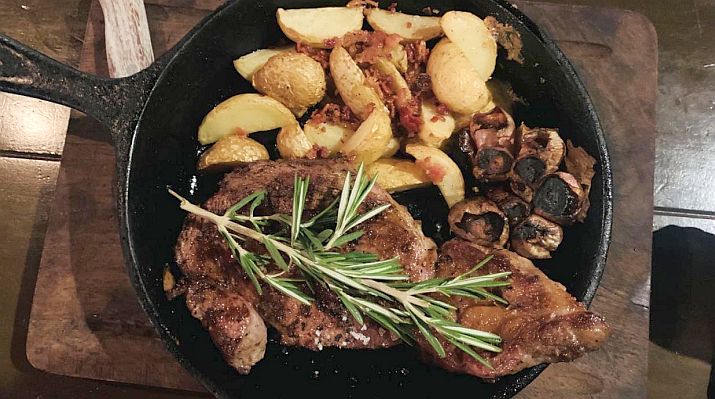 As I wrap up my culinary tour of cities within an hour (via air) of Puerto Vallarta, I couldn't miss a visit to Amatxi, one of Guanajuato City's most popular dining spots. Located in the historic La Presa district, the restaurant sits against a backdrop of colorful hills and architectural wonders. Amatxi strikes a balance between casual and avant-garde, offering a visual feast from the décor to the wait staff.
We dined there last night, initially seated in a quiet corner. Yet, drawn to the lively atmosphere, we moved closer to the heart of the action – yes, it was louder, but the energy was contagious. The meal began with complimentary Granny Smith apple slices sprinkled with Tajin, a refreshing pairing with our Dirty Martinis ($200 pesos).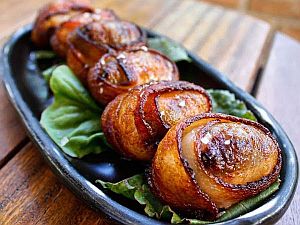 The appetizers stand out, even if their modest descriptions undersell them. We opted for three. The Carpaccio de Res ($210 pesos) surprised me with its unconventional topping of shredded Parmesan and fresh herbs, veering away from my usual request for Dijon and red onion – yet utterly enjoyable. Then came the Bacon-Wrapped Dates ($230 pesos), a dish that sounds basic but exceeds expectations in a way I can't quite pinpoint. Finally, the Pintxos de Pork Belly ($200 pesos) were skewered delights, crispy yet tender, and amplified by a house preserves glaze and a touch of truffle oil.
For the main course, we shared the Rib Eye in Iron Casserole ($550 pesos), which is more than ample for two. The skillet imparted a satisfying char to the perfectly cooked medium-rare steak, complemented by Chambray potatoes and a hint of fresh rosemary.
The menu offers many other tempting options; a link is included (below) for your perusal. If you find yourself at Amatxi, feel free to let them know that Austin James ranks it as his top dining experience in Guanajuato City.
I give Amatxi:

A un lado de Palacio de Gobierno, P.º de La Presa 109-Planta alta, Barrio de la Presa, Guanajuato City, Gto 36000
Open Daily: 2:30–10:00; Closed Tuesday; Closes at 9:30 on Sunday
Reservations: wa.me
Phone: 473-731-0692
Menu: mimenudigital.com.mx
I welcome your comments or suggestions of restaurants to try at TheHungryCriticPV(at)gmail.com.
Click HERE to read more Puerto Vallarta restaurant reviews.