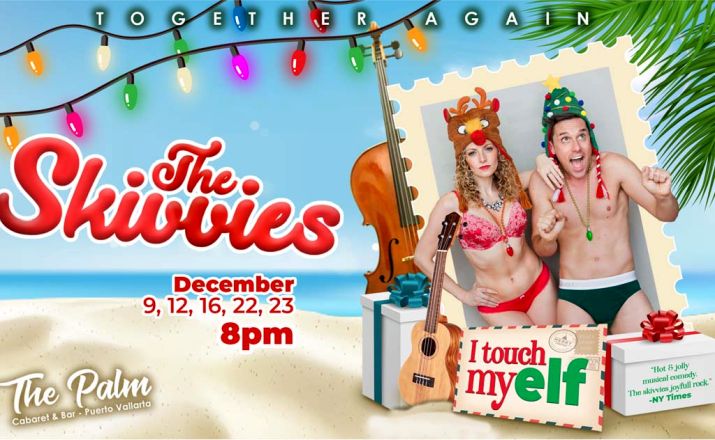 Puerto Vallarta, Mexico – Joining The Palm Cabaret's holiday shows are The Skivvies in I Touch My Elf. Known for their comedy/singing shows, The Skivvies return to Vallarta with a hilarious seasonal spoof filled with good cheer and great entertainment.
The Skivvies are Nick Cearley and Lauren Molina, American singer/musician/actors, who perform "stripped down" arrangements of popular songs and original tunes while stripping down to their underwear. You can catch the show on December 9, 12, 16, 22 & 23 at 8 pm.
"Indie rock, alt-cabaret, new burlesque: Whatever you call it, the jolly musical comedy of the Skivvies, a troupe of entertainers who perform in their underwear, joyfully rock… Wielding instruments as if they were toys, the Skivvies' leaders Nick Cearley… and his mischievous curly-headed partner Lauren Molina, treated the stage like a glorified sandbox for grown-up children. With their fellow musicians… they played jet-propelled, humorous mash-ups of songs from near and far in an accelerated jug band style… The Skivvies are paradoxically sophisticated and innocent… they tempt you to rush back to childhood and forward into the future at the same time." – NY Times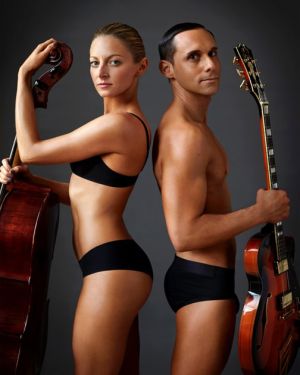 "The Skivvies have managed to carve out a niche that we never knew needed to exist: It's part Weird Al-parody and part sexy burlesque… an unusual explosion of satire and sultry." – Out Magazine
"…At a Skivvies show, audiences will find love and friendship with their fellow humans, artists of varying ages, shapes, sizes, body types, all of whom are on stage to entertain, enlighten, illuminate and make people happy. There is no envy, jealousy, self-consciousness or self-loathing. There is no feeling of judgment anywhere. There is no negativity at a Skivvies show, only solidarity in art and companionship. Audience members will leave a Skivvies show happy that they came, glad that they participated, and feeling filled with humanity." – Broadway World
People Magazine named The Skivvies as the "Most Playful Performers" in the "Most Talked about Bodies of 2014" Issue
"The Skivvies are best thing to happen to NYC nightlife in years… a shot of pure joy to the heart… A MUST-see! Repeatedly!!!" – Perez Hilton
"…Distinctive musical style, highly original…smart…sophisticated…ingenious…" – Wall Street Journal
"…a hot musical comedy duo specializing in unexpected arrangements, incongruous mashups and, of course, highly toned displays of skin." – The New York Times
"Favorite New Band" – Sports Illustrated
Tickets for all shows can be purchased at the venue's box office at Olas Altas 508, or online at ThePalmCabaret.com. For your safety, the venue has added ventilation, social distancing, masks and reduced capacity. This means you can feel comfortable while enjoying all of the great performances at The Palm.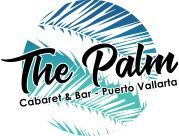 The Palm Cabaret and Bar is located at 508 Olas Altas in the heart of the Puerto Vallarta Romantic Zone. Tickets can be purchased at the venue's box office, which opens daily at 10:00 am, or online at ThePalmCabaret.com.
For more information, click HERE, call (322) 222-0200, visit their website, or follow The Palm Cabaret and Bar PVR on Facebook.