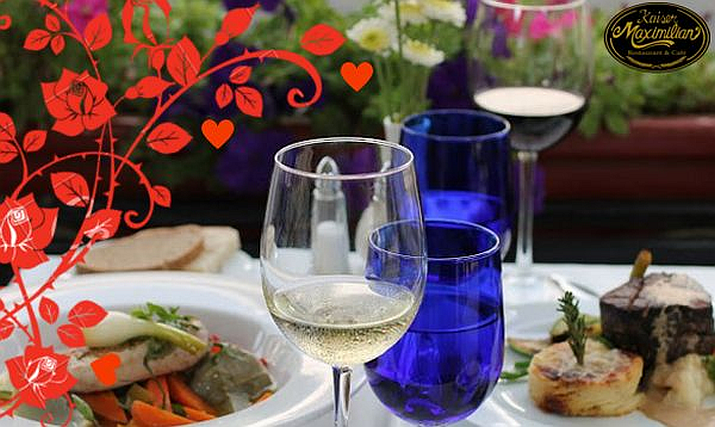 Puerto Vallarta, Jalisco, Mexico – Looking for a new way to commemorate Valentine's Day? Surprise that special someone by celebrating this sweetheart of a holiday on Tuesday, February 14th with a romantic dinner at Kaiser Maximilian Restaurant in the heart of the Puerto Vallarta Romantic Zone.
Executive Chef Juan Carlos Palomer has created a wide variety of innovative dishes to choose from on a special four-course Valentine's Dinner menu, which will be offered for just $1150 Pesos per person (tip not included), in lieu of the restaurant's regular a la carte menu.
To make the evening even more romantic, Kaiser Maximilian offers an extensive selection of wines, available by the glass or the bottle, that pair perfectly with any entrée, appetizer, or dessert, and are sure to make a memorable impression on that special someone.

Kaiser Maximilian's Valentine's Dinner Menu
(Choose one dish from each course)
First Course
• Spinach pie, spinach, feta cheese, olive oil, crispy fillo, herbs emulsion
• Cesar salad with crispy potato croutons
• Marinated beets and carrots, fine greens, goat cheese
• Duck confit salad, sherry vinaigrette, squash, pears, winter greens
• Tuna carpaccio with mixed greens, cucumber, tomatoes
Second Course
• Mushroom cream soup with quinoa, roasted chiles
• Onion soup with white wine, toast and gratinated cheese
• Red cabbage cream soup with roasted duck crust, potato dumpling
• Celery salad with mushrooms and sautéed veal sweetbreads
• Sautéed squid, cauliflower puree, charred broccoli, passion fruit vinaigrette
• Gnocchi with mushrooms, spinach and truffle sauce
• Grilled octopus, chickpea purée, pickled onions, balsamic vinegar gel
• Raviolis with fennel filling, prosciutto, mushrooms, tarragon sauce
Main Course
• Red snapper fillet with shrimp sauce,potato puree, celery
• Salmon fillet with angel hair pasta, mozzarella, asparagus, red wine sauce
• Beef tenderloin Rossini, duck liver, truffle sauce, mashed potatoes
• Beef tenderloin, creamy gorgonzola cheese, vegetables, mushrooms, potato gratin
• Tafelspitz, braised beef, sauteed potatoes, spinach, horseradish, chives sauce
• Zwiebelrostbraten, flat pounded beef loin, onion rings, sautéed potatoes
• Roasted leg of veal, glazed vegetables, Spätzle, cream sauce with mushrooms
• Wienerschnitzel, breaded pork loin with potatoes, Austrian salad
• Rahmschnitzel, sautéed pork loin escalopes, noodles, cream mushroom sauce
• Chicken breast with spinach and ricotta, gnocchi, lemon sauce, dill oil
Dessert
• Crepe "Heisse Liebe," with vanilla ice cream, strawberry sauce
• Warm pecan chocolate bourbon tart, vanilla ice cream
• Vanilla ice cream covered with a hot crepe, chocolate sauce with pecans.
• Chocolate pot de crème, caramel mousse, sea salt
• Sour cream cheesecake, coconut crust, rum poached pineapple
• Rehrücken, flowerless chocolate cake, mint ice cream
• Crème Brulée, vanilla cream, caramelized sugar crust
• Panna cotta with passion fruit sorbet, marinated berries
Since an intimate evening of wining, dining and romance is one of the best ways to make your sweetheart feel special, make plans now to surprise your Valentine with a delightful dinner at Kaiser Maximilian on Tuesday, February 14, 2023. Reservations are strongly recommended, and can be made by calling 322-223-0760 or 322-222-5058, or online at KaiserMaximilian.com.

Open Monday-Saturday from 8 am to 11 pm for breakfast, lunch and dinner, Kaiser Maximilian Restaurant & Cafe is located at Olas Altas #38B in the Zona Romántica of Puerto Vallarta. For reservations call (322) 223-0760 or visit KaiserMaximilian.com