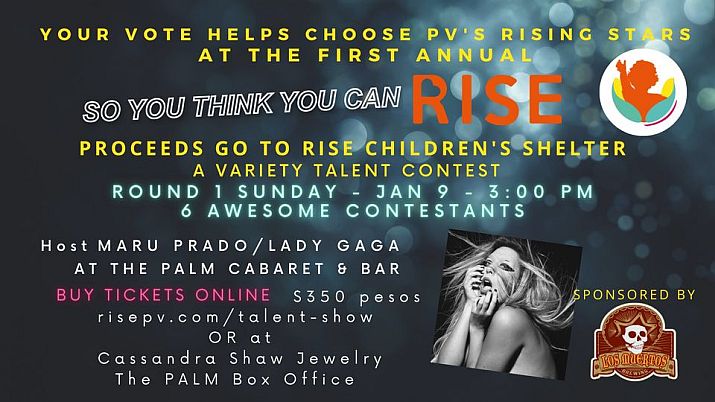 January 3, 2022 Update: Judges for Round 1 Announced! Talented and Local Favorites, Tonny K and Diego Guerrero, and Special Guest Judge Tricia Lyman, creator of the popular Facebook group, "Puerto Vallarta Everything You Need or Want to Know," with 77,000 members!
Puerto Vallarta, Mexico – Round One of 'So, You Think You Can RISE,' Puerto Vallarta's first Variety Talent Contest, is around the corner, and you won't want to miss your chance to vote on the next rising PV Superstar! Let's have some fun and raise funds for RISE Children's Shelter.
So, You Think You Can RISE – Round One
Sunday, January 9th at 3:00 pm
The Palm Cabaret, 508 Olas Altas, Zona Romantica
Round 1 Contestants:
• Alkoliti Flow – Hip Hop Dance Group
• Nathalia Isabella Acosta – 11 year old Traditional Spanish Singer
• Dennis Saffer – 25 year experienced opera and theater performer
• Efrain and Diana – an energetic Spanish singing duet
• Jovanna Reyes – Pop singer
• Manuel Mulia – Mentalist/Magician
So, You Think You Can RISE is a series of 7 Talent Shows, modeled after America's Got Talent. The contest consists of 6 Preliminary Rounds with the winner of each Round advancing to the Grand Finale at Teatro Vallarta. Preliminary Rounds are on Sundays at 3:00 pm, and the Grand Finale is on Sunday, February 20th at 7:30 pm. Buy tickets at risepv.com, at Cassandra Shaw Jewelry on Basilio Badillo, or The Palm Cabaret.
Make plans now to be at The Palm Cabaret on Sunday, January 9th at 3:00 pm, and be among the first to see some of the hidden talent we have here in Puerto Vallarta. All proceeds go to RISE Children's Shelter.

R.I.S.E. (Refugio Infantil Santa Esperanza) is a privately funded, 50-bed children's shelter in Puerto Vallarta, providing a loving environment for children who are "at risk" at home or have no home. These resilient children range in age from newborn to mid-teens. For 20 years RISE has operated with a combination of a great staff and a team of volunteers that keep RISE running. RISE is 100% funded through private donations and fundraising is a huge part of our ability to provide these children with nutritional meals, education, medical and dental services, activities, clothing & more. Learn more at risepv.com.