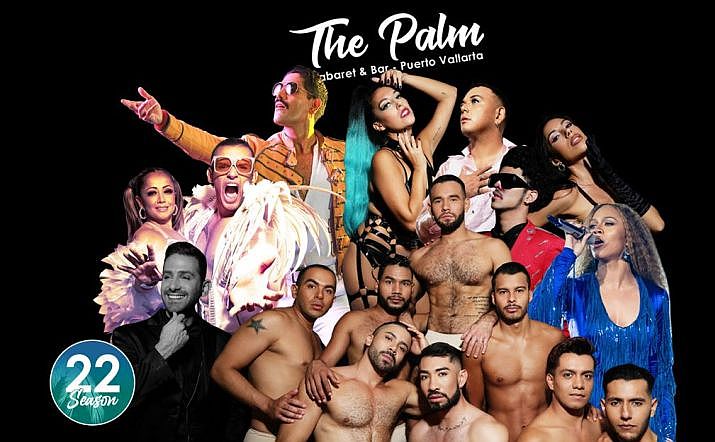 Update: The Palm Cabaret's 22nd Season of Entertainment wraps up with "I Am Beyonce" on Thursday, July 7th at 9:30 pm, "My Way" on Friday, July 8th at 8 pm and "This is Gaga" on Saturday, July 9th at 9:30 pm.
Puerto Vallarta, Mexico – It's been an incredible season of top-notch entertainment at The Palm Cabaret. With Pride Week behind us and high-season ending in Puerto Vallarta, there are still fabulous shows to attend during the month of June… and beyond. There are currently shows scheduled through July 9th, then, the shows will likely be taking a hiatus until October.
Some fabulous hit shows have been held over by popular demand. Thursdays at 9:30 pm don't miss the new, hit show, I Am Beyonce. At 8 pm on Thursdays starting June 9th, Pop returns with exciting tributes to some of our favorite music icons.
On Fridays at 8 pm, the fabulously talented Nacho Granados delivers My Way at 8 pm and Roy Gomez Cruz shares his amazing Freddie Mercury tribute, I Want It All at 9:30 pm on June 3 & 10.
Saturdays at 9:30 pm feature Maru Conti Prado with the Starboys in their very popular performance of This is Gaga. Sundays, US Two performs their acclaimed show Rocketman/Dancing Queen at 8 pm and Sexed: Unleash Your Fantasies returns at 9:30 pm.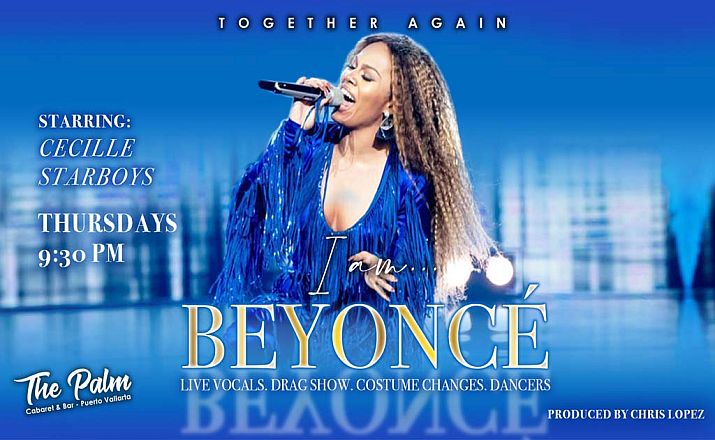 One of the most acclaimed artists of our times is BEYONCÉ. The Palm brings to its stage I Am Beyonce, an incredible tribute to B-Queen from the hand of a renowned artist in Mexico – Cecille – on Thursdays at 9:30 pm. She is breathtaking as Beyonce and has the looks, the voice and the stage presence of this music legend! Beyoncé has captured worldwide attention for her incredible performances and her musical career continues to soar. With hits songs like "Halo", "Single Ladies" and the well-known song "Crazy in Love," we've all enjoyed her music. Cecille, who grew up on the island of Cozumel, is thrilled to present this amazing tribute to one of music's superstars. At 27 years old and with 10 years of performing in the Drag scene, Cecille has managed to stand out as a great singer, dancer and performer paying tributes to various artists like Rhianna, Jlo, Dua Lipa and Beyoncé, among others. Cecille has had the opportunity to participate in some very impressive shows, touring throughout Mexico. Other notable events have been a duet with the famous singer Natalia Giméne in Jalisco and winning the Impulse award for LGBTIQ Newcomer of the Year 2021. She has also worked on her first album of original music.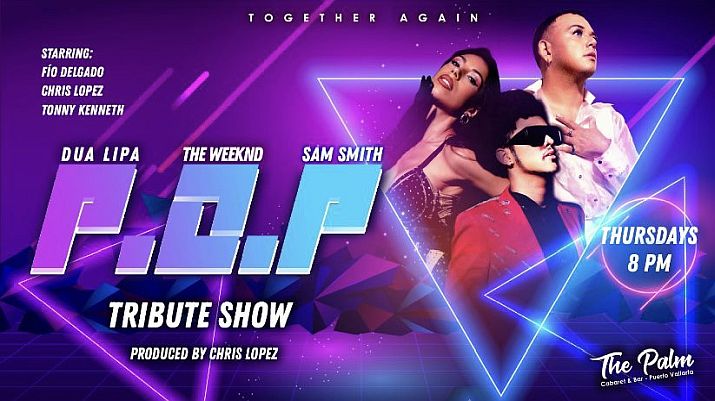 The new show POP will be featured on Friday, June 24 at 9:30 pm. Pop is a tribute to three popular musical artists. They include The Weeknd, Dua Lipa and Sam Smith. With great hits throughout their careers, each of these artists has managed to conquer their audience and become great representatives of pop music. Tonny Kenneth has managed to represent different artists on various stages both in Puerto Vallarta and in his native Panama. After his successful show representing musical superstar, Prince, Tonny will present the music and persona of The Weeknd. Fio Delgado is a singer born in Uruguay who has toured different stages across Mexico. Fio is excited to represent one of the most sought after and listened to artists today: Dua Lipa. Chris Lopez has managed to move many with his voice. Currently, producer, co-producer and contributor to various shows at The Palm this season, Chris brings back to the stage his incredible Sam Smith tribute that captured the attention and praise of many music lovers.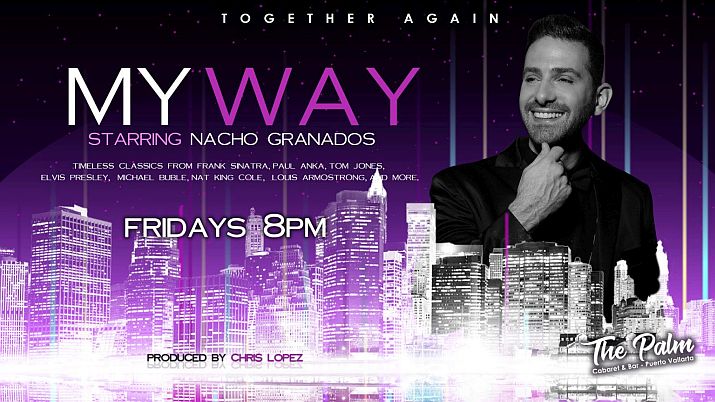 Don't miss Nacho Granados in My Way on Fridays at 8 pm. Experience this magical journey thru timeless classics and great performers like Frank Sinatra, Tom Jones, Elvis Presley, Paul Anka, Neil Diamond, The Righteous Brothers and more. Choreographed by producer/entertainer, Chris Lopez, this show is phenomenal! Born in Argentina, Nacho took his first musical theater lesson at 18 and at 22 had his first show. This was the beginning of being part of musical theatre shows for kids and Broadway-style shows, at the same time having his own performances in pubs, nightclubs and restaurants. In 2011 he moved to Mexico – continuing his singing career and meeting his friend, colleague and producer Chris Lopez, who has contributed to great shows like This Is Gaga, I Want It All and Stay With Me.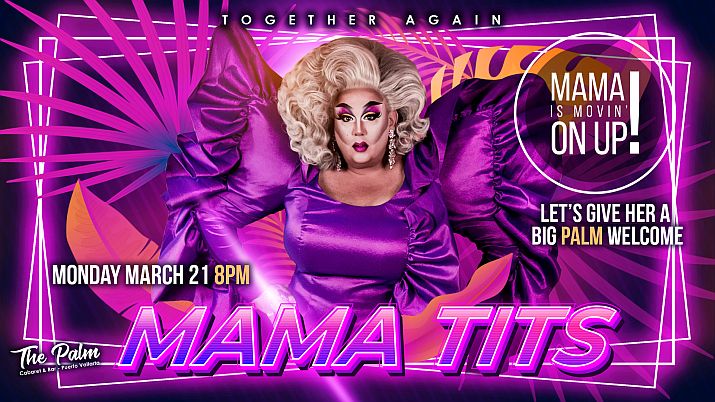 Back for her 7th season in Puerto Vallarta, Mama Tits is bigger than life and her audience numbers continue to prove it show after show! Mama Tits will now bring her special brand of Drag entertainment to The Palm Cabaret. You'll love this Vallarta legend as she entertains with her raw and amusing take on topics like politics, sex, relationships and living your truth. Mama Tits takes the stage on Saturday, June 25th at 9 pm.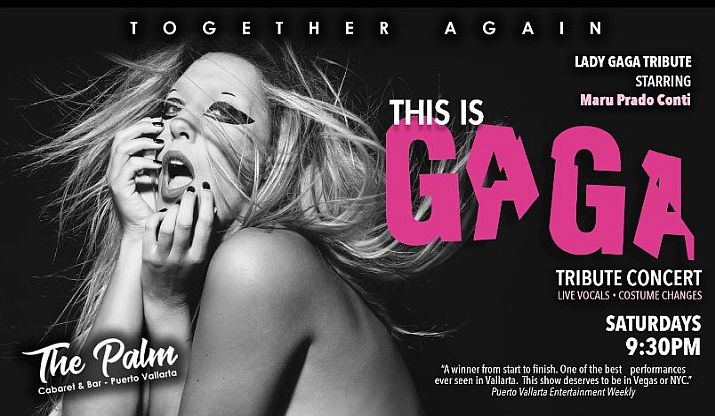 The MEGA-HIT SHOW, This is Gaga, happens on Saturdays at 9:30 pm. Maru Prado Conti once again shares her amazing musical tribute to the legendary Lady Gaga through thrilling songs, choreography, costumes, video and dance. Don't miss this incredible performance also featuring The Starboys!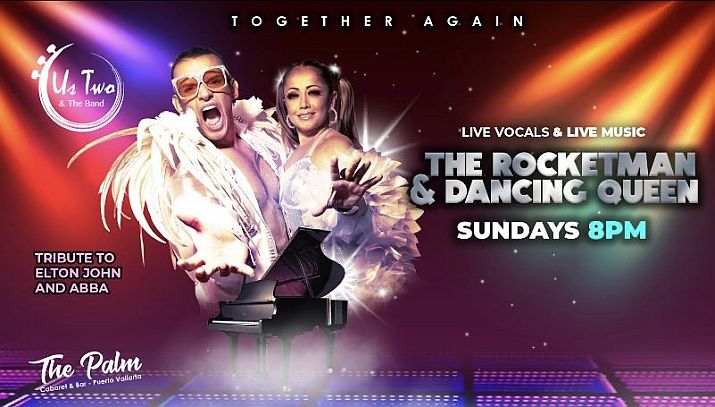 On Sundays at 8:00 pm, Us Two share their popular musical tribute in the show, Rocket Man/Dancing Queen, featuring the music of Elton John & Abba. This show continues to receive fantastic reviews!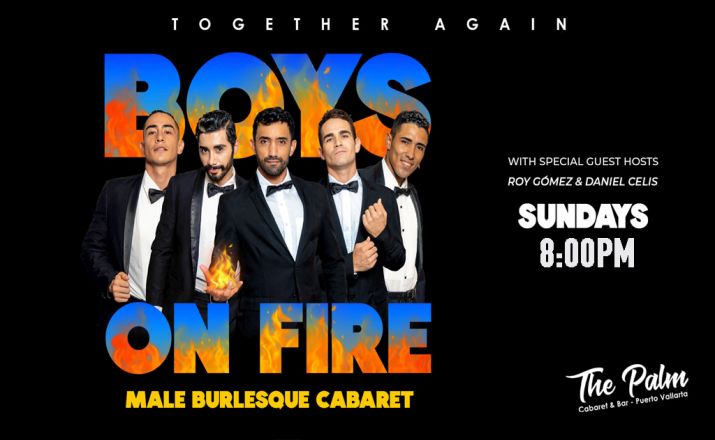 Boys on Fire is one of the hottest tickets in town on Sunday, July 3 at 9:30 pm. This troupe led by Sebastian Coronel from Argentina brings together 5 gorgeous men and professionally trained dancers in an incredible all-male burlesque cabaret show. Emceed weekly by Roy Gómez (Freddy Mercury) or Daniel Celis (USTWO). Parental guidance is suggested.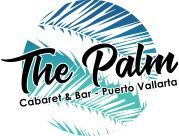 The Palm Cabaret and Bar is located at 508 Olas Altas in the heart of the Puerto Vallarta Romantic Zone. Tickets can be purchased at the venue's box office, which is open Wed-Sun from 11:00 am to 10:00 pm, or online at ThePalmCabaret.com.
For more information, click HERE, call (322) 222-0200, visit their website, or follow The Palm Cabaret and Bar PVR on Facebook.