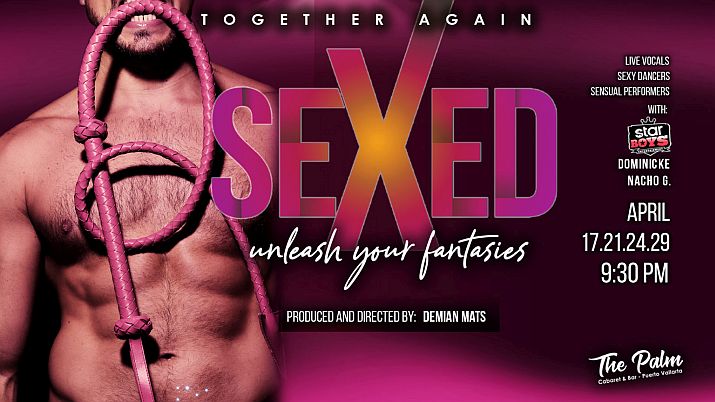 April 24 Update: By popular demand, 'Sexed: Unleash Your Fantasies' has been extended through May with shows on Fridays at 9:30 pm.
Puerto Vallarta, Mexico – 'Sexed: Unleash Your Fantasies' is a Cabaret burlesque show where the eroticism of the imagination comes true. Discover what is possible if you let yourself flow. Sexed is a performance full of sensuality with performance artist Demain Mats, live singers, dancers and actors. This show will ignite your imagination and desires. Don't miss the debut of the new Sexed on Sunday, April 17th at 9:30 pm.
This dazzling show includes Argentineans Demain Mats and Nacho Granados (star of the new hit show, My Way); dancers, Alex Moran (choreographer) from Venezuela, Pedro Izazaga, Sue Valero & Oscar Gomez (Mexico) and Drag "Dominicke," Rafael Dossa from Venezuela. This performance includes a mix of cabaret, electronic and pop music. There's even a gorgeous, large cage that is part of the show.
This new Sexed: Unleash Your Fantasies is filled with fun, eroticism and colorful, interesting performances. Nacho Granados is the singer/host of this hot show and Demain Mats is the producer/director. Alex Moran has choreographed this new performance and is known for his contributions to the hit show, This Is Gaga. The exciting dance group, The Star Boys, brings another fabulous dimension to the performance.
Demian Mats the producer and star of Sexed is an Argentine actor, who has studied musical theater and dance, among other artistic activities. Demian has worked in theater since he was 20 years old and participated in shows like La Cage Aux Folles and Bollywood as an actor and dancer.
He has lived in Mexico for 4 years and is currently in Puerto Vallarta where he participates as a Drag queen performer in the Lady Gaga tribute, This is Gaga and in I Want It All, (a Freddie Mercury tribute).
Expect the unexpected as Demian Mats and his cast of performance artists, dancers and vocalists bring to the stage an erotic adventure, unlike anything Puerto Vallarta audiences have experienced before. Imagine the unimaginable, unleash your fantasies and get your tickets now for this sensual, sensational show.
Sexed: Unleash Your Fantasies takes the stage on April 17, 21, 24 & 29 at 9:30 pm at The Palm Cabaret and Bar.
Tickets can be purchased at the venue's box office, or online at ThePalmCabaret.com. For your safety, the venue has added ventilation, social distancing and reduced capacity. Masks are required to enter. This means you can feel comfortable while enjoying all of the great performances at The Palm.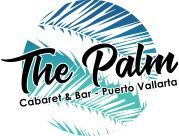 The Palm Cabaret and Bar is located at 508 Olas Altas in the heart of the Puerto Vallarta Romantic Zone. Tickets can be purchased at the venue's box office, which opens daily at 10:00 am, or online at ThePalmCabaret.com.
For more information, click HERE, call (322) 222-0200, visit their website, or follow The Palm Cabaret and Bar PVR on Facebook.