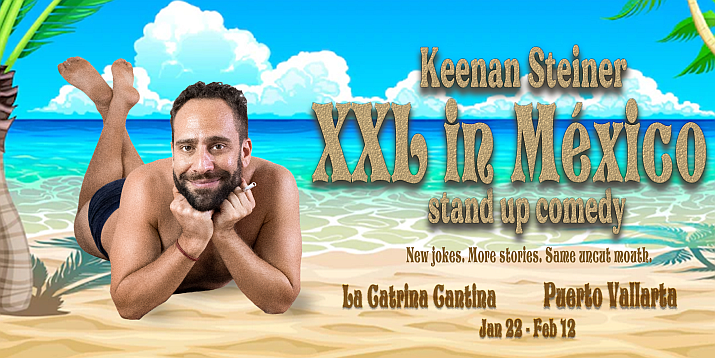 Puerto Vallarta, Mexico – Keenan Steiner is a silly New York City comedian known for his nothing-is-off-limits material, vulnerability and authentic voice. Hitting stages across the US and at comedy clubs in NYC, he debuted his standup hour at the Edinburgh Fringe Festival in Scotland in 2019, and audiences would write that it was not only a "must-see" but that it was "frigging hilarious from start to finish."
For a third season, the first standup comedian to launch his English standup hour in Mexico in recent memory is back in Puerto Vallarta for a limited run, after touring his show in Mexico City, Cancun, Playa del Carmen, New York City, and performing in many other cities in Mexico.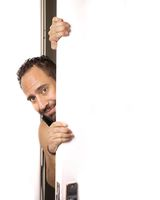 The half-Jew, full-gay New Yorker who lives in Mexico City, is back again at La Catrina Cantina in Zona Romántica, with an eye-popping and sidesplitting performance that from the first joke to the last punchline is full of surprises – both to the audience and himself.
Keenan shines with his unique energy and ability to make everyday life freshly funny. That includes character-driven jokes and stories that take us through the more entertaining side of being a tourist in Puerto Vallarta – from being constantly hawked goods in the street, to receiving restaurant service that could be described as too attentive, to being on Grindr in Mexico.
There are many moments where Keenan opens up to the crowd on what can be weightier topics – coming out to himself and to family, the evolving notion of identity in today's culture – but he deftly finds the funny the whole way through. Deft with a callback, the show's finale comes back home in a refreshing way.
His act was reviewed last year in the PV Mirror.
"I have described him before as being as funny as Jerry Seinfeld with a side dish of Italian," wrote Marcia Blondin.
Keenan also took on another challenge starting in 2021 with standup in Spanish. "It's been one of the biggest challenges. You're dealing with a different sense of humor, culture, and language that you must try to master. It's failed at times; it wins at times. The goal is. I always find the commonality between what I think is funny and what a Mexican crowd does. When I do, that is where the fun is!"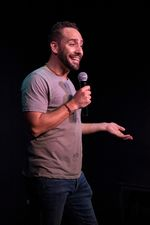 Finally, a bit more from Keenan's bio: Originally from Chappaqua New York and starting standup in New York City in 2015, Keenan's comedy is formed by coming out later than was probably ideal, mental health struggles, adventures across the world, venturing to do standup in a new language, and a Jewish-Italian background. These experiences have led to a uniquely offbeat, authentic, and open-to-all style of comedy.
You can see Keenan for a 7-show run (all in English) that started Jan 22 and goes through Feb 12 on Friday and Sunday evenings – Friday at 6:30 pm and Sundays at 7 pm. Be sure to get there on time as the show only goes one hour. Buying tickets in advance is strongly recommended.
See standup clips, read reviews, and buy your tickets on Eventbrite.
La Catrina Cantina is a bar/venue that features local cabaret acts. It is located at Lázaro Cárdenas 315, in the Puerto Vallarta Romantic Zone. (Click HERE for Google map.) For more information call 322 291 8777 or visit lacatrinacantinapv.com.