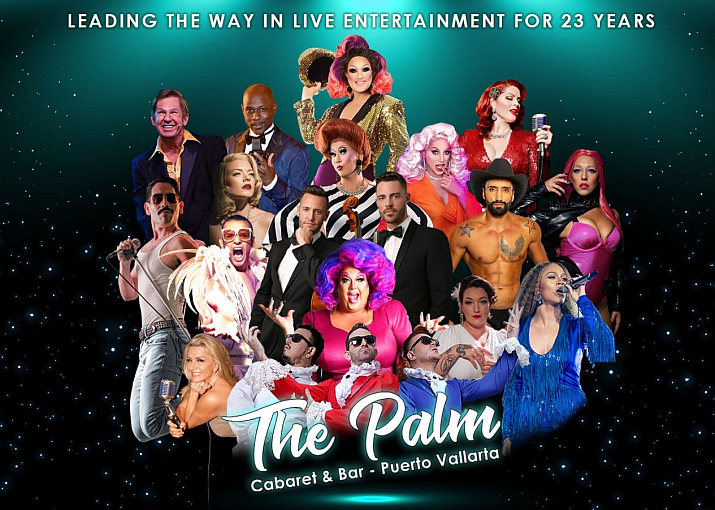 Puerto Vallarta, Mexico – It's been a block-buster season of sold out shows and the demand for The Palm's outstanding performances continues! Beginning in May, there will be performances from Thursday to Sunday with several Wednesday shows as well. Some of the season's most successful shows will continue with the addition of a few new ones.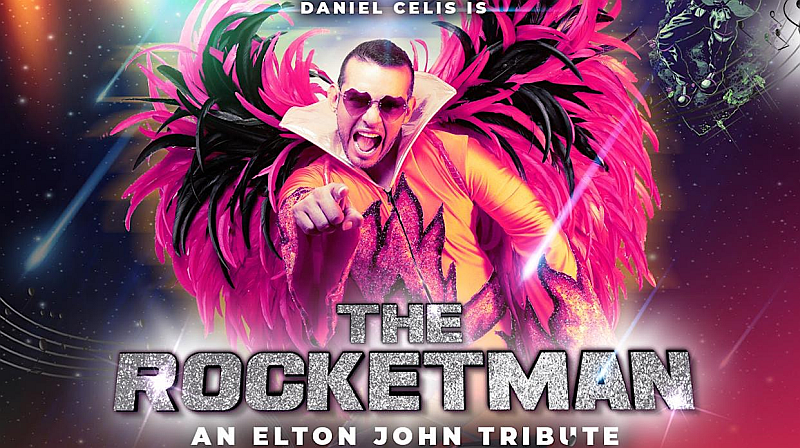 Daniel Celis presents his popular show, The Rocketman, featuring themes from Elton John on Thursdays at 8 pm. Daniel always presents an exciting nightclub-style show that thrills his audience. You'll see new fantastic costumes, dancers, video enhancements and a professional, entertaining tribute. And you'll absolutely love his "Tiny Dancer."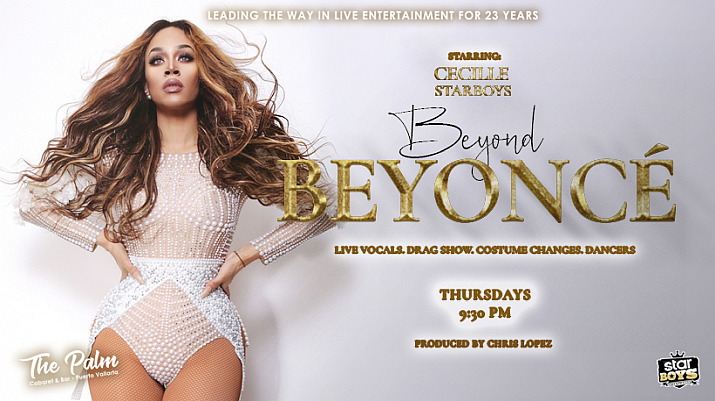 After being the finalist on the El Retador TV show, Claude Cecille André, decided to delve one step further into the entertainment industry and created the Beyond Beyoncé Tribute Show (produced by Chris Lopez). With a show full of slick original choreography, jaw-dropping vocal ability, phenomenal costume changes, plenty of audience participation and even a few added extra surprises for your viewing pleasure, I guarantee that this unique one-of-a-kind show will leave you mesmerized and in disbelief that you have been up close and personal to the next best thing to Beyoncé herself. Catch this fabulous performance on Thursdays at 9:30 pm.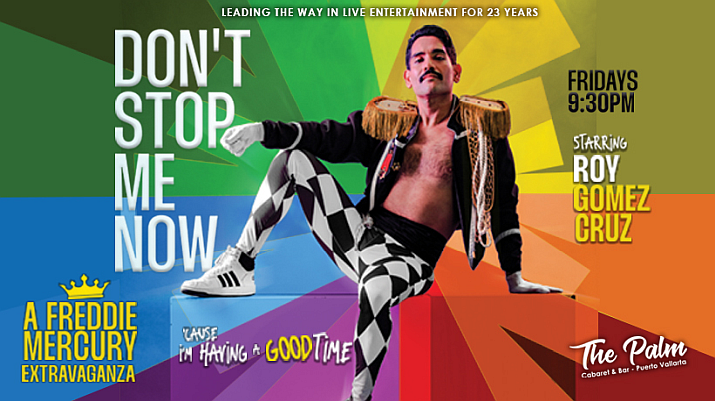 You can enjoy Don't Stop Me Now, a tribute to Freddie Mercury, every Friday at 8:00 pm. Roy Gomez Cruz presents an energetic, visual and emotional performance as he shares the songs and life events of the legendary Freddie Mercury (of Queen). Roy's dramatic style, vocals and theatrics add up to a top-notch performance. Don't Stop Me Now brings you up close to this amazing rock icon.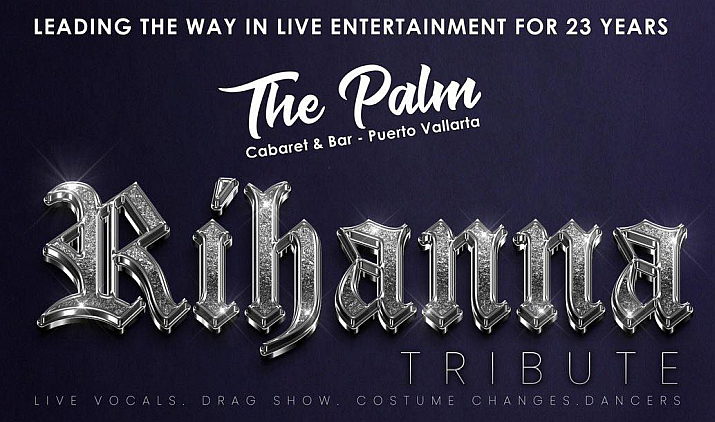 The Rihanna Tribute from producer and director Chris Lopez stars Cecille, (the drag artist who stars in the Beyonce tribute). You'll thrill to this emotional tribute with all-live vocals and incredible choreography and dance. After the success of the February 18 "Rihanna Super Bowl Half-time Tribute," the theater's technical team, the fantastic Starboys, Stargirls and Cecille decided to present a full tribute show to the native singer of Barbados. Changes of costumes, identical representations, audiovisuals and outstanding choreography await as this new show is sure to become a late-season hit! Don't miss the "Rihanna Tribute" on Fridays at 9:30 pm.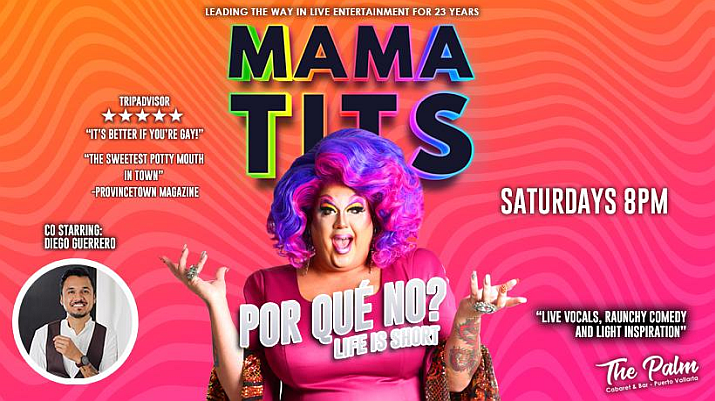 Mama Tits presents Por Qué No? – Life is Short on Saturdays at 8 pm. "If life has taught us nothing recently it's that the world can change in an instant. So what are you waiting for?! Buy that outfit, go on that trip, see that show and spoil yourself! You're worth it!" – Mama Tits – Flamboyant, Soulful, Reflective, Defiant, Brave, Sexual and Always Hilariously Crass, audiences just love Mama Tits! Her show combines buttery smooth vocals with heartfelt stories and lessons that touch everyone willing to open their hearts and minds. Mamas' show is mainly geared towards the LGBTQIA+ audience while also making room for friends and allies. The language is R rated, but the show is L rated for Love. She's wickedly wise and oh so funny. And this Mama can singggg! With the addition of Vallarta star vocalist, Diego Guerrero, this show is a must-see!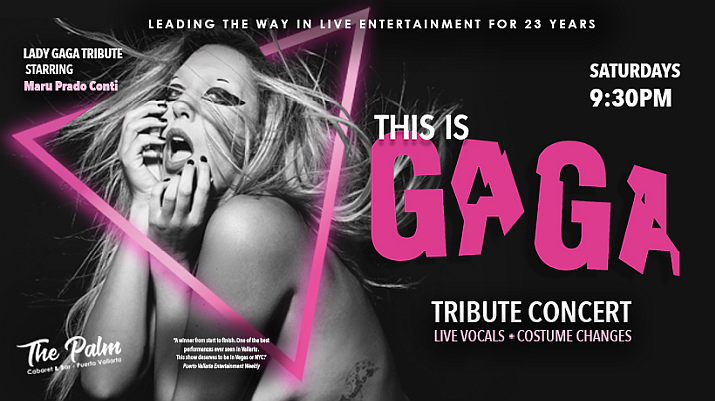 This is GAGA starring Maru Prado Conti has been running for several years with sold-out performances for good reason. This high-energy performance is much more than just a tribute show. Maru and her dancers deliver one of the finest show ever to appear in Vallarta entertainment. The phenomenal success of this show continues on Saturdays at 9:30 pm. This show is a MUST SEE There is nothing like it anywhere!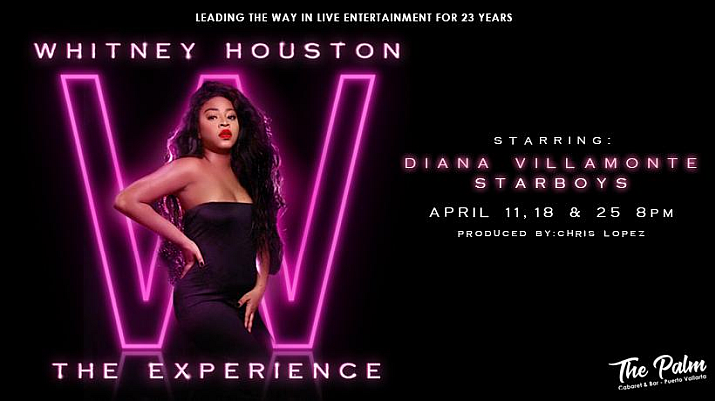 Diana Villamonte returns in May with her Whitney Houston Tribute on Sundays at 8 pm. Diana has performed 7 seasons in Puerto Vallarta and is one of the all-time top-performing artists in town. A student of ballet, modeling, theater and voice since the age of 10, Diana Villamonte has won numerous competitions and was runner-up on the national TV show, The Voice of Mexico. Her Whitney Houston Tribute is simply phenomenal! Don't miss this incredible performance!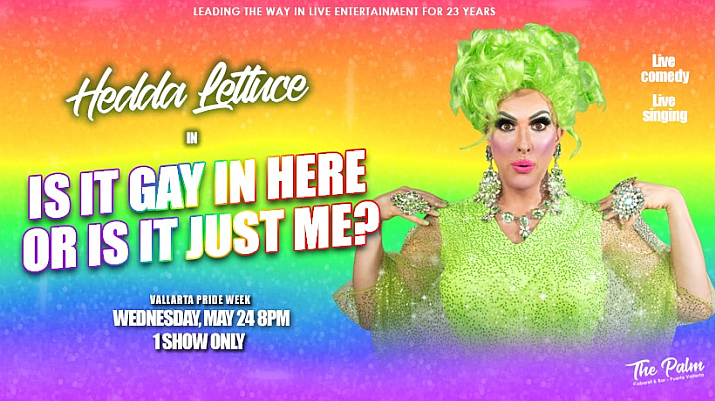 One of Vallarta's favorite Drag Stars, Hedda Lettuce, makes a special Gay Pride Week, appearance on May 24th, sharing her fabulous show during this special week of celebration. Six-time Drag Queen of the Year Award-winner, this legendary "Green Goddess" of drag entertains audiences with wild stories, witty comebacks, audience banter and some pretty fine singing.
Hedda Lettuce proved why she is one of New York City's premiere drag queens and a Vallarta favorite. She has appeared on HBO, Comedy Central and MTV. She's also been featured in films, commercials and in off-Broadway projects. She's performed with stars like, Sarah Jessica Parker, Tyra Banks, Vanessa Williams and Madonna and appeared on such television shows as Project Runway and Sex and the City. Michael Musto, American Journalist and writer for OUT.com, has crowned Hedda, "The undisputed grand dame of the drag comedy set."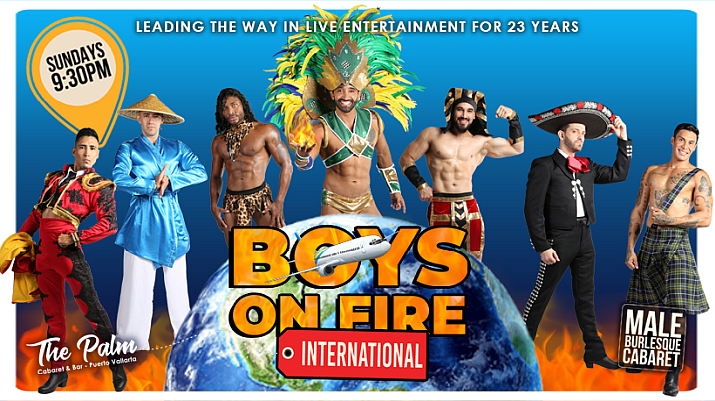 Boys on Fire International Edition returns on May 28th for a special Gay Pride Week performance. This show brings together a cast of the finest men from Argentina, Mexico, Venezuela and Columbia in perhaps the sexiest male burlesque show ever. Sebastian Coronel has once again produced what is definitely the hottest ticket in town. This handsome troupe of dancers, singers and acrobats will take you on an enthralling adventure around the world celebrating beautiful men through music, costumes and dance. A show not to be missed. Parental guidance definitely suggested or, even better, bring your parents.
Make sure to keep up with the latest show info at ThePalmCabaret.com.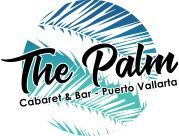 The Palm Cabaret and Bar is located at 508 Olas Altas in the heart of the Puerto Vallarta Romantic Zone. Tickets can be purchased at the venue's box office, which is open on show days from 11:00 am to 11:00 pm, or online at ThePalmCabaret.com.
For more information call 322-222-0200, visit their website, or follow The Palm Cabaret and Bar PVR on Facebook.