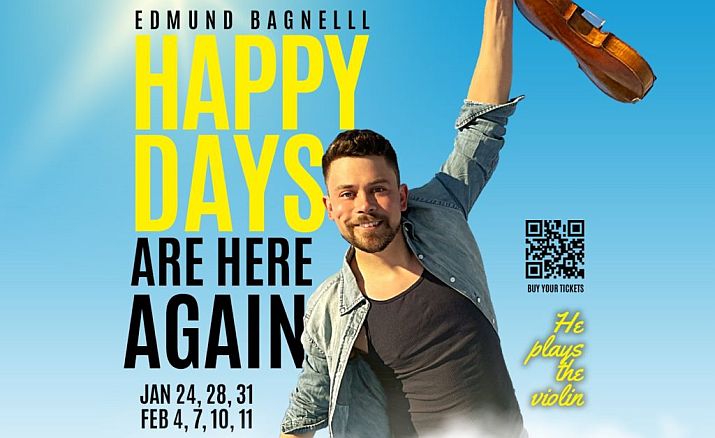 Puerto Vallarta, Jalisco, Mexico – This week, The Palm Cabaret and Bar debuts two new spectacular cabaret shows.
Edmund Bagnell, 1st violinist and vocalist of the internationally famous group, Well-Strung, will premiere his new show, Happy Days Are Here Again, starting Monday, January 24 at 6 pm.
Through stories and songs, this show features all things music from Classical to Standards and from Pop to Broadway, with fabulous violin throughout the performance. You'll enjoy an intimate personal side of this talented artist in this joyful, musical journey.
Bagnell performs on the violin and sings as he combines Pop and Classical music, adding in Standards and Broadway tunes. Edmund reveals his own story which includes playing violin since age 7, along with his background as an actor. He is thrilled to be able to share this intimate, personal show of music and stories.
Hailing from South Carolina, Edmund is living life to its fullest in NYC these days. He is delighted to return to Puerto Vallarta with his new show Happy Days Are Here Again for 7 shows only on January 24, 28, 31 & February 4, 7, 10, 11 at 6 pm.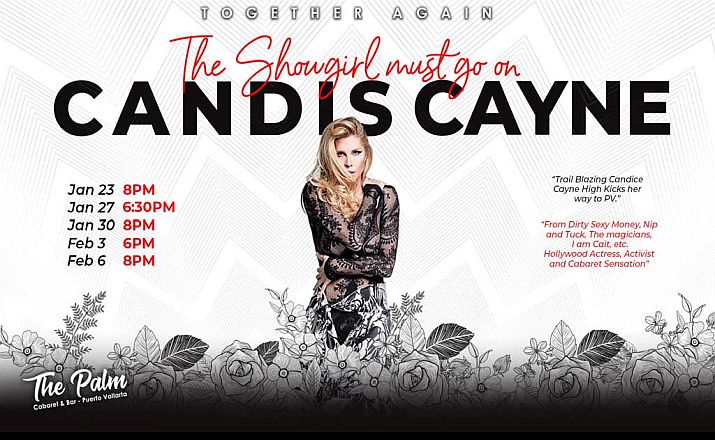 Drag Star Candis Cayne joins The Palm for 5 shows only with her show, The Showgirl Must Go On, beginning Sunday, January 23 at 6 pm. Known for her remarkable acting and performance skills, Cayne delivers a polished, high-energy show, filled with spicy musical numbers, fantastic dance and show biz stories.
Candis Cayne moved to New York in the early 1990s, making a name for herself as a choreographer and drag performer. Performing as "Candis Cayne" at New York Boy Bar and as a featured performer at Tour in New York's Chelsea, the entertainer also participated in Wigstock, the annual drag festival in Manhattan's East Village. She has had a very successful career in television, theater and movies, appearing in shows like Nip Tuck, Dirty Sexy Money, RuPaul's Drag Show and Caitlyn Jenner's I Am Cait, just to name a few.
She had a supporting role in the comedy-drama film Always Something Better and was in a documentary called Drag Time on HBO along with many other famous New York nightlife performers. Cayne also starred as the title character in the 1998 independent film Mob Queen and won the 2001 Miss Continental pageant. In 2007 Cayne was cast as Annaka Manners in the 2007 RuPaul film Starrbooty.
Candis Cayne high kicks her way to The Palm's stage on Jan 23 at 8 pm, Jan 27 at 6:30 pm, Jan 30 at 8 pm, Feb 3 at 6 pm and Feb 8 at 8 pm. The Showgirl Must Go On is cabaret at its best, so make sure to include this performance in your entertainment plans!
Tickets for all shows can be purchased at the venue's box office at Olas Altas 508, or online at ThePalmCabaret.com. For your safety, the venue has added ventilation, social distancing, masks and reduced capacity. This means you can feel comfortable while enjoying all of the great performances at The Palm.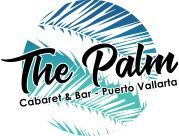 The Palm Cabaret and Bar is located at 508 Olas Altas in the heart of the Puerto Vallarta Romantic Zone. Tickets can be purchased at the venue's box office, which opens daily at 10:00 am, or online at ThePalmCabaret.com.
For more information, click HERE, call (322) 222-0200, visit their website, or follow The Palm Cabaret and Bar PVR on Facebook.