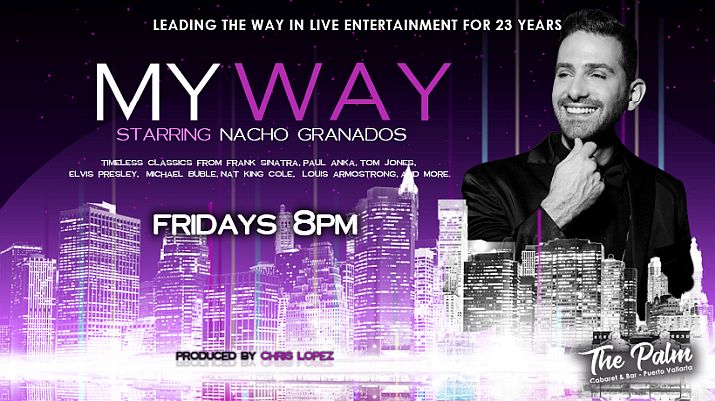 Puerto Vallarta, Mexico – The Palm Cabaret is celebrating its 23rd year of entertaining Puerto Vallarta and the new season is proving to be a spectacular one! On Friday nights, you can relive the magic of two hit shows from last Spring, My Way, starring Nacho Granados, and I Want it All: The Freddie Mercury Story, starring Roy Gomez Cruz.
On Fridays at 8 pm, Nacho Granados takes us on a magical journey through timeless classics and great performers such as Michael Buble, Ben E. King, Lionel Richie, Frank Sinatra, Tom Jones, Elvis Presley, Paul Anka, Neil Diamond, The Righteous Brothers and more in My Way.
With video accompaniment, superb choreography, breathtaking vocals and no shortage of charisma to go along with his fabulous good looks, Nacho Granados may just be one of Vallarta's most appealing new musical stars. Energetic and classy, Nacho has the moves and the voice to live up to these timeless classics.
Nacho performs favorites like, Fly Me to the Moon, New York New York, Stand By Me, I Who Have Nothing, Only You, Unforgettable, Put Your Head on My Shoulder, Sweet Caroline and more!
And of course, the show's namesake, My Way, is one of the highlights of the night. Another incredible part of his performance is an emotional, medley of Spanish hit songs. The show includes a quality accompaniment of piano and backtracks that gives a nice musical background to these classic numbers.
Nacho Granados was born in Buenos Aires, Argentina and at the age of 18 he took his first musical theater lesson and at 22 had his first show. This was the beginning of being part of musical theater shows for kids and Broadway-style shows, at the same time having his own performances in pubs, nightclubs and restaurants. In 2011 he moved to Mexico, continuing his singing career and meeting his friend, colleague and producer Chris Lopez, who contributed to great shows like This Is Gaga, I Want It All, and Stay With Me.
You'll definitely enjoy Nacho Granados' My Way as you experience the talent of one of Vallarta's up-and-coming new stars! This is musical nostalgia and show biz classics at their very best!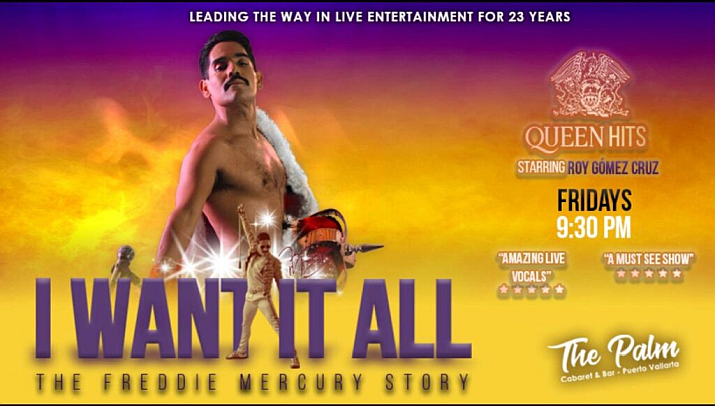 Several seasons ago, Roy Gomez Cruz introduced I Want it All: The Freddie Mercury Story, and the show became an instant smash hit. Once again, Roy is back delivering powerful vocals, Queen hits and an incredible live entertainment experience. Featured every Friday at 9:30 pm, I Want It All is a breathtaking musical event that you won't soon forget!
Roy's incredible performance takes you on an energetic, visual and emotional journey through the songs and life events that made Freddie Mercury larger than life. His powerful vocals and unbelievable impersonation bring you as close as you'll ever be to the rock icon of all times. Roy's professional musical and performance training really shines through in this show. Not only does he sing every song authentically, but his costumes, style, persona and audience engagement all measure up to the legendary Freddie Mercury. Roy also accompanies himself on the piano for some songs, just like the iconic Freddie Mercury did in his concerts.
Audiences are totally engaged in Roy's performance as they sing along to Queen's greatest hits. With incredible video footage of concerts and interviews in the background, the show entertains and educates about this totally unique and groundbreaking star. The concert takes you through Freddie's transformation into a groundbreaking Rock Star and an eternal legend! To take on the challenge of portraying such an extraordinary musical icon is no small task and Roy does it perfectly and with the energy and passion of the legend.
The Palm Cabaret's Mark Rome has commented, "This is much more than just a show. I have never seen audiences embrace and enjoy a performance like this. Absolute magic happens with this unforgettable tribute to Freddie Mercury and Queen."
Throughout the performance you'll hear hits like, I Want It All, Under Pressure, The Show Must Go On and I Want to Break Free, with the classic reenactment of the Queen cross-dressing video. You'll also enjoy classics like, Somebody to Love, We Will Rock You and We Are the Champions. And of course, the best known of all his songs, Bohemian Rhapsody, is always a highlight of the evening. Roy has added new songs to his show this season as well.
Don't miss I Want It All: The Freddie Mercury Story, playing every Friday at 9:30 pm this season. Experience the music of Queen delivered in one of the most amazing tribute performances you'll ever see!
Keep up with the latest show info at ThePalmCabaret.com. The Palm will continue to announce more of its upcoming shows on its website and on Facebook.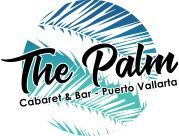 The Palm Cabaret and Bar is located at 508 Olas Altas in the heart of the Puerto Vallarta Romantic Zone. Tickets can be purchased at the venue's box office, which opens daily at 11:00 am, or online at ThePalmCabaret.com.
For more information, click HERE, call (322) 222-0200, visit their website, or follow The Palm Cabaret and Bar PVR on Facebook.