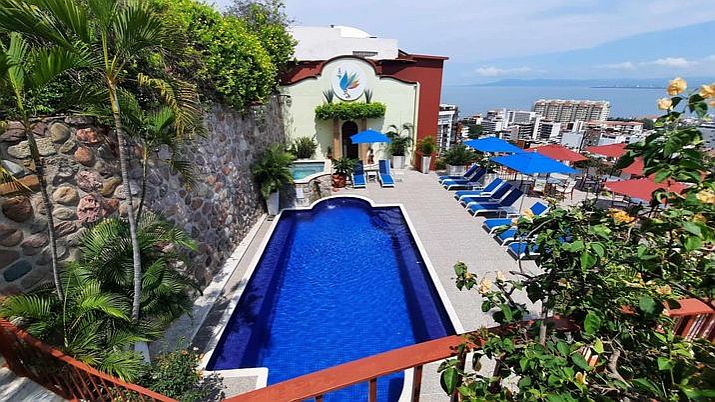 Puerto Vallarta, Mexico – The International Friendship Club (IFC) provides one of the most popular tourist activities in all of Puerto Vallarta, their always special Home Tours. So put on your walking shoes, grab your camera, and get ready to enjoy a fun-filled day of discovery, while giving a helping hand to the less fortunate in Puerto Vallarta and surrounding areas.
This season, IFC Home Tours kick off on November 21 and will take place every Tuesday through March 19. Starting on January 10th, the tours will also be available on Wednesdays through March 20, 2024.
Each week the IFC's comfortable, air-conditioned, buses will take you to three or four unique homes, ranging from small, traditional style casas to multi-million dollar beachfront condos and villas. Their knowledgeable docents lead each group. Most tours require the ability to walk on cobblestones, inclined streets, and up and down stairs. The tours last for about three hours and cost $800 pesos.
What makes IFC Home Tours exceptional is their dual purpose. Beyond showcasing the beauty of Puerto Vallarta, the proceeds from these excursions play a crucial role in supporting local initiatives. The beneficiaries include the IFC's cleft palate program, RISE orphanage, Pasitos de Luz, Aid to Families of Children with Cancer, the SETAC Community Center for HIV Prevention, and the Instituto des Artes Musicales Puerto Vallarta (IAMPV), among other programs that are essential to improving many Puerto Vallarta residents' health and education.
Tours run weekly from the Sea Monkey Restaurant on the South Malecon in front of Condominiums Villa Vista Del Sol at Aquiles Serdan. Tickets must be purchased in advance online at ifcvallarta.org. Cost: $800 pesos. Tour guests must check-in from 9 am to 10:15 am and tours depart at 10:30 am sharp. Please be sure to bring your confirmation receipt with you.
For early birds, Sea Monkey Restaurant offers a discounted breakfast, a perfect prelude to a day filled with exploration and giving back.

The International Friendship Club is a registered charitable organization in Mexico listed as Club Internacional de la Amistad de Puerto Vallarta A.C. It is located at the northeast corner of the Rio Cuale Bridge above the HSBC Bank, Colonia El Centro, Puerto Vallarta, Jalisco, Mexico, 48300. Phone: 322-222-5466. Website: ifcvallarta.org Email: ifcvallarta(at)gmail.com