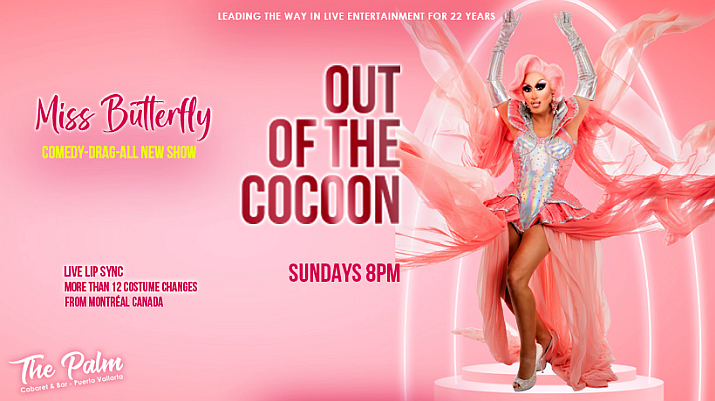 Puerto Vallarta, Jalisco, Mexico – Miss Butterfly has fluttered into The Palm Cabaret with a new show, 'Out of the Cocoon'. This Montreal-based drag superstar is celebrating 20 years as a drag diva and frequently spends part of the year in Puerto Vallarta performing in the Blue Chairs area of Zona Romantica.
The Palm Cabaret is thrilled to have Miss Butterfly's new show, Out of the Cocoon, on Sundays at 8 pm. You'll experience superb lip-syncing, 12 costumes, dancers, comedy and more!
I had no idea what to expect from Miss Butterfly, but we all ended up with a raucous good time! In all her glory, she emerged from her cocoon to take us on a hilarious hour-and-a-half journey. With 2 gorgeous dancers and what seemed like a zillion incredible costumes, there was hardly a moment to catch our breath as Miss B. slayed us with her outrageous humor, her multi-lingual tongue and her wild and crazy take on everything from drag queens to philosophy.
Her banter with the audience was priceless and I would have paid the price of the ticket just to see the elaborate costumes that she strutted around in as she parodied some of our favorite songs and characters.
And yes, Miss Butterfly is downright gorgeous, no matter what your gender or orientation is. She rocks those legs like no other Drag Queen that I've ever seen. Partway through the show, she had a little wardrobe malfunction with her bikini top that kept us cracking up! And the things that came out of her mouth would make your mother blush, but I guarantee they are side-spitting fun.
This sexy Queen from Montreal effortlessly communicates in 4 languages, but the best language of all is laughter and she's a pro at making her audience howl. And I don't think there are any sequins or feathers left in all of Vallarta from the looks of those fabulous costumes. Yes, she lip-syncs, but we weren't there for her vocals. She carries the show just fine with her wild outlook, outrageous remarks, audience banter and sexy moves. And those fabulous costumes are out of this world!
From Tina Tuner to belly dancing to a hilarious Edith Piaf parody, Miss Butterfly swept us up in her comedy wings and gave us a roaring good time!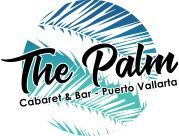 The Palm Cabaret and Bar is located at 508 Olas Altas in the heart of the Puerto Vallarta Romantic Zone. Tickets can be purchased at the venue's box office, which opens daily at 11:00 am, or online at ThePalmCabaret.com.
For more information call 322-222-0200, visit their website, or follow The Palm Cabaret and Bar PVR on Facebook.