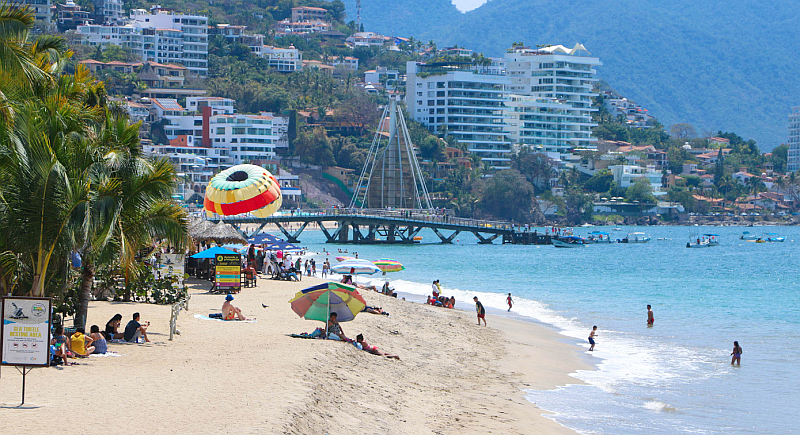 Puerto Vallarta, Mexico – During Professor Luis Alberto Michel Rodríguez's second year in office, Puerto Vallarta solidified its position as a nationally and internationally renowned tourist destination. The city achieved this by promoting its attractions and enhancing overall conditions to improve the visitor experience.
Undoubtedly, Puerto Vallarta has become a favored beach destination for both domestic and international visitors, with significant increases in occupancy rates. In 2022, the occupancy rate reached 71.3%, while in 2023, it surged to 76.3%, resulting in substantial revenue growth for the hotel industry.
The Puerto Vallarta airport also witnessed remarkable growth. In 2021, it served 2,072,410 passengers, but in 2022, the number skyrocketed to 6.2 million passengers. By August 2023, the airport had already welcomed 4.7 million passengers, indicating a potential record-breaking year.
The airport's passenger traffic shows an annual growth of 14.6% for domestic travelers (1.9 million) and 12.2% for international visitors (2.7 million). Moreover, Puerto Vallarta boasts air connections to 15 Mexican cities, 23 in the United States, 15 in Canada, and one in Europe. Maritime activity also plays a vital role, with 186 cruise ships arriving in 2022, generating a significant economic impact of 22.3 billion pesos. In the first half of 2023, 112 cruise ships brought 350,000 visitors to the city.
The Tourism and Economic Development Directorate's "Filming" department supports nationally and internationally recognized production companies in various audiovisual projects. These include reality shows, nationally broadcast TV programs, movies, and series on platforms like Netflix. This activity has raised Puerto Vallarta's profile and contributed approximately 103.2 million pesos to the local economy this year.
Notable productions include The Amazing Race, La Joya, Almost Paradise Acapulco, and filming for the Holland America cruise line.
The Municipal Tourism Directorate, in collaboration with various agencies, entrepreneurs, restaurateurs, hoteliers, and sports clubs, hosts numerous national and international events to enhance and promote the destination. Key events include the Day of the Dead Festival, which achieved a Guinness World Record for the monumental Catrina, Vinoma Fest (wine fair), Gala Riviera Nayarit-Puerto Vallarta (a major business event), UTMB ultramarathon, 17th Vallarta Azteca International Folklore Festival, Puerto Mágico Open tennis tournament (considered the world's best Challenger tournament), the 66th International Fishing Tournament, Vallarta Pride, International Bear Festival, and the Open at Vidanta international golf tournament.
Additionally, to foster friendships, cultural and economic ties, and tourism promotion, Puerto Vallarta established sister city relationships with Compostela on May 3, Port Hueneme, California, on February 10, and McAllen, Texas, on July 30.