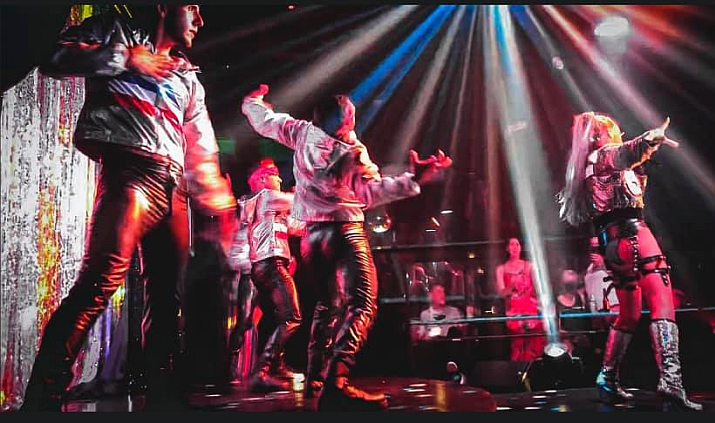 Puerto Vallarta, Mexico – The Palm Cabaret continues to celebrate its 22nd season of entertainment with exciting performances most every night (closed on Mondays) through the month of May. With new acts opening, the return of some fan favorites and many spectacular shows continuing, you'll enjoy an eclectic mix of professional shows presented by entertainers from around the world.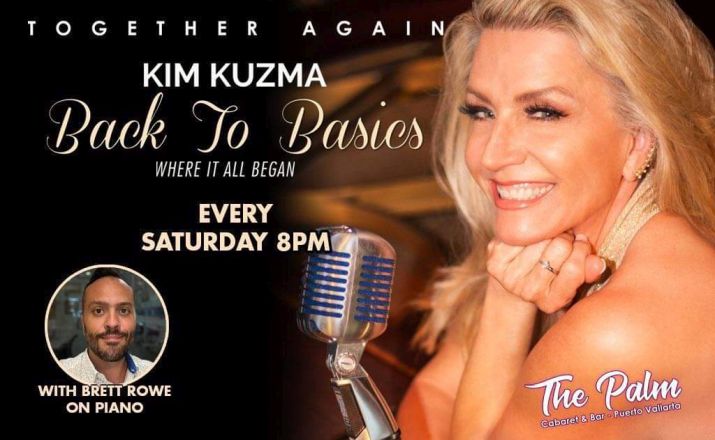 Don't miss the season's last performance of Kim Kuzma's fabulous new show, Back to Basics (Where It All Began) at The Palm Cabaret & Bar on Thursday, May 19 at 8:00 pm. Entertaining audiences once again with her humor and appealing vocal style, Kim is accompanied on piano by Broadway musician Brett Rowe, as she goes back to her roots with music and artists that have influenced her throughout her career. The reviews are in and this show is a winner!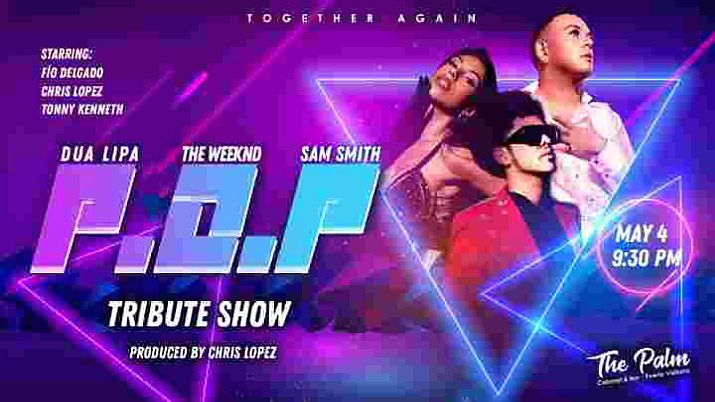 The new sensation, Pop, a high-energy tribute to three popular musical artists – The Weeknd, Dua Lipa and Sam Smith – by three local powerhouse performers, happens on May 18th at 9:30 pm and on May 28th at 11:00 pm. With great hits throughout their careers, each of these artists has managed to conquer their audience and become great representatives of pop music. Tonny Kenneth has managed to represent different artists on various stages both in Puerto Vallarta and in his native Panama. After his successful show representing musical superstar, Prince, Tonny will present the music and persona of The Weeknd. Fio Delgado is a singer born in Uruguay who has toured different stages across Mexico. Fio is excited to represent one of the most sought after and listened to artists today: Dua Lipa. Chris Lopez, the producer, co-producer and contributor to various shows at The Palm this season, brings back to the stage his incredible Sam Smith tribute that captured the attention and praise of many music lovers.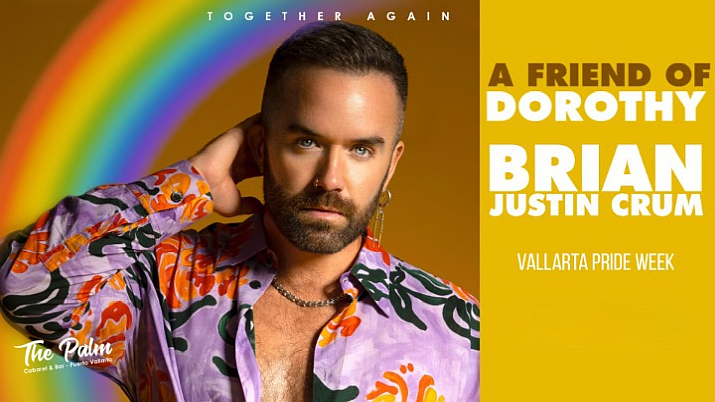 Brian Justin Crum returns to The Palm on May 26th at 9:30 pm and on the 27th at 8 pm with his show, A Friend of Dorothy. BJC is a singer-songwriter currently creating in Los Angeles. He is known for his soaring vocals and emotional storytelling. His first single "Show Me Love" reached #2 on the Billboard Dance charts and was named in the top 10 dance records of 2017 alongside Rihanna, Dua Lipa and Ed Sheeran. He became a viral sensation with his cover of Radiohead's "CREEP" on America's Got Talent which has amassed over 100 Million views online and "Never Enough" which entered the iTunes Pop Charts. He has had an expansive career in the Arts, getting his start on Broadway at just 17 years old. From "Wicked" and Pulitzer Prize-winning "Next to Normal" to QUEENS rock theatrical "We Will Rock You" (where he got to perform alongside original band members Brian May and Roger Taylor). BJC has sold out concerts all over the world and has honed his sound along the way. The sonic landscape of his debut EP is inspired by the nightlife of Berlin. Pop melodies matched with house and techno beats really paint the picture of a year of personal growth. The first single "Other Side" is coming soon.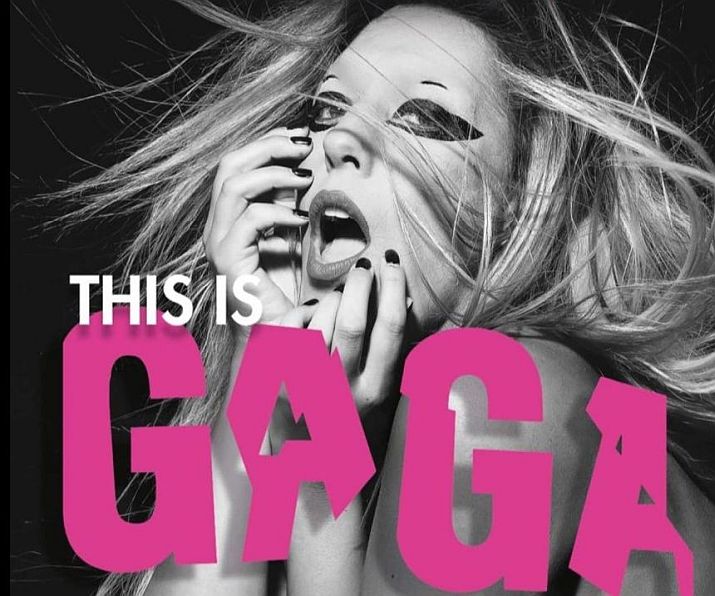 The HIT SHOW, This is Gaga, happens on Sat, May 21st and on Wed, May 25th at 9:30 pm. Maru Prado Conti once again shares her amazing musical tribute to the legendary Lady Gaga through thrilling songs, choreography, costumes, video and dance. Don't miss this incredible performance!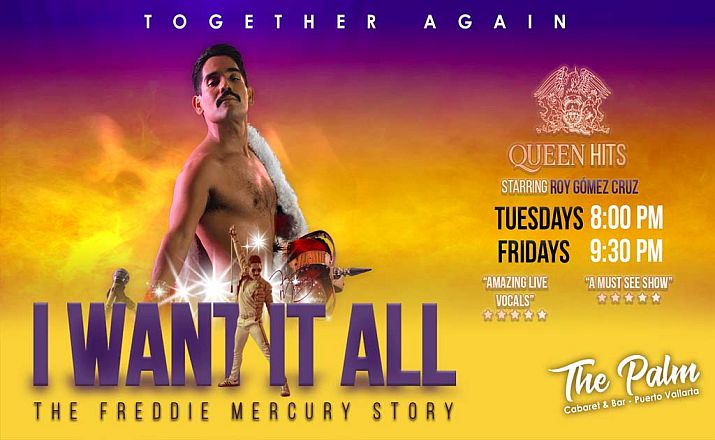 Roy Gomez Cruz returns with his spirited musical tribute show. He skillfully takes his audience on an energetic, visual and emotional journey through the songs and life events of the legendary Freddie Mercury in I Want It All. This show brings you as close as you'll ever be to this iconic rock star. You can enjoy this fantastic performance on Tuesday, May 24th at 8:00 pm and on Saturday, May 28th at 9:30 pm.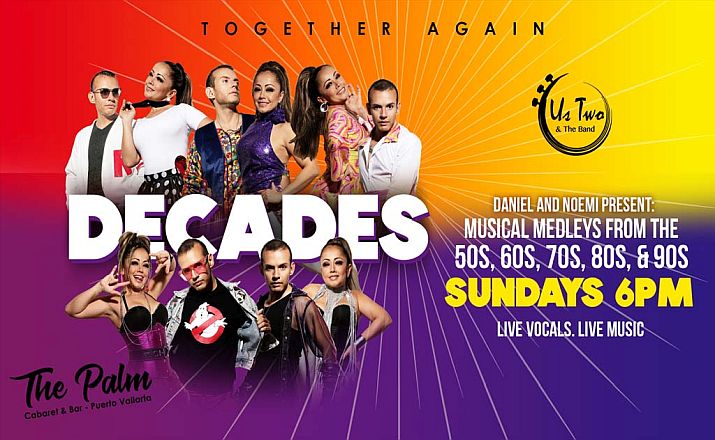 On Sundays at 8:00 pm, Us Two shares their fantastic musical tribute, Decades, featuring some of our favorite songs throughout the decades. Vallarta audiences love the high-energy shows that musical favorites Danny and Noemi deliver! US TWO also offers their highly-acclaimed, new show, Rocket Man/Dancing Queen, featuring the music of Elton John & Abba on Wednesdays at 8 pm. This show has been getting fantastic reviews!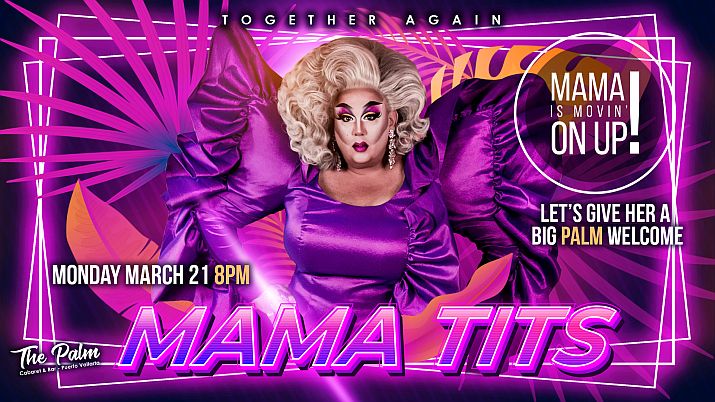 Back for her 7th season in Puerto Vallarta, Mama Tits is bigger than life and her audience numbers continue to prove it show after show! Mama Tits will now bring her special brand of Drag entertainment to The Palm Cabaret. You'll love this Vallarta legend as she entertains with her raw and amusing take on topics like politics, sex, relationships and living your truth. Mama Tits takes the stage on Saturdays at 8 pm and Mon, May 23rd at 9:30 pm.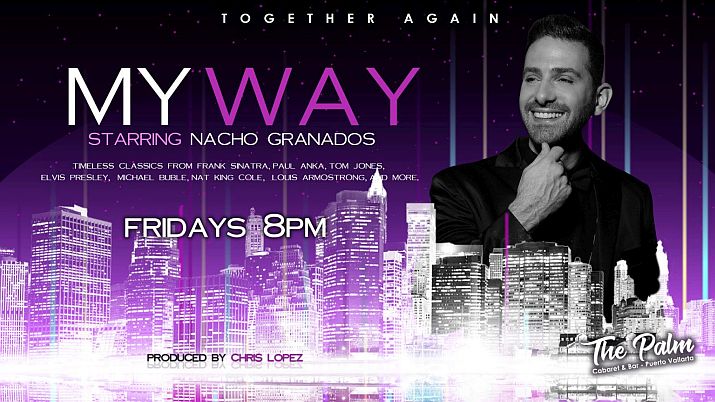 Don't miss Nacho Granados in My Way on Friday, May 20th at 8 pm. Experience this magical journey thru timeless classics and great performers like Frank Sinatra, Tom Jones, Elvis Presley, Paul Anka, Neil Diamond, The Righteous Brothers and more. Choreographed by producer/entertainer, Chris Lopez, this show is phenomenal! Born in Argentina, Nacho took his first musical theater lesson at 18 and at 22 had his first show. This was the beginning of being part of musical theater shows for kids and Broadway-style shows, at the same time having his own performances in pubs, nightclubs and restaurants. In 2011 he moved to Mexico – continuing his singing career and meeting his friend, colleague and producer Chris Lopez, who has contributed to great shows like This Is Gaga, I Want It All and Stay With Me.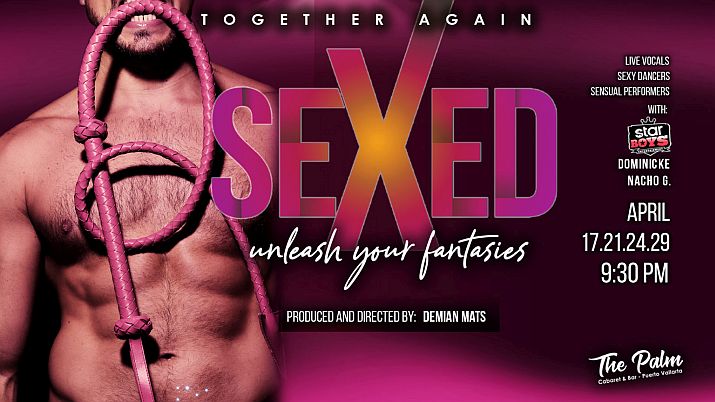 Sexed: Unleash Your Fantasies is a show where the eroticism of the imagination comes true. Discover what is possible if you let yourself flow. Sexed is a performance full of sensuality with performance artist, Demain Mats, live singers, dancers and actors. This show will ignite your imagination and desires. Don't miss Sexed on Friday at 9:30 pm.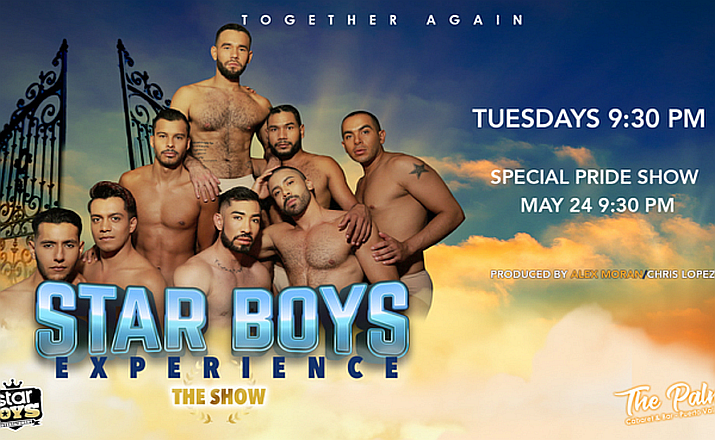 To enjoy an incredible evening of music, dance and fabulous choreography and costumes, don't miss The Starboys Experience. These professional dancers put their sensuality, precision and charm into each show. Over the past year, these fantastic performers have gained praise and recognition as the dancers in the hit show, This is Gaga. Come see them in their first feature performance at The Palm. The Starboys Experience happens on Tuesdays at 9:30 pm.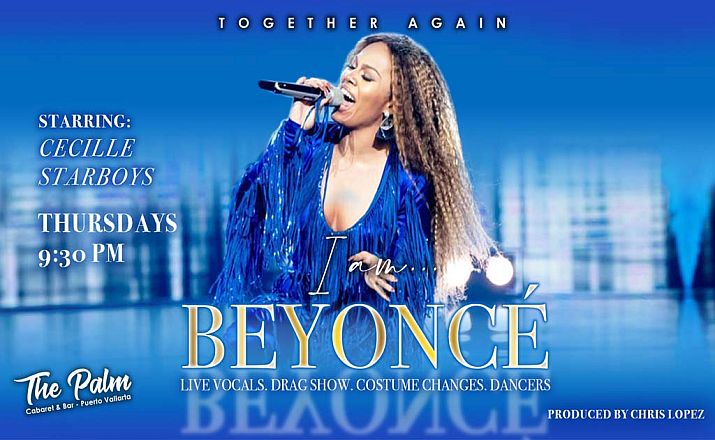 One of the most recognized and acclaimed artists of our times is BEYONCÉ. The Palm brings to its stage I Am Beyonce, an incredible tribute to B-Queen from the hand of a renowned artist in Mexico: Cecille on Tues, May 24th at 11 pm. She is breathtaking as Beyonce and has the looks, the voice and the stage presence of this music legend! Beyoncé has captured worldwide attention for her incredible performances and her musical career continues to soar. With hits songs like "Halo", "Single Ladies" and the well-known song "Crazy in Love," we've all enjoyed her music. Cecille is thrilled to present this amazing tribute to one of music's superstars. Cecille grew up on the island of Cozumel. At 27 years old and with 10 years of performing in the Drag scene, Cecille has managed to stand out as a great singer, dancer and performer paying tributes to various artists like Rhianna, Jlo, Dua Lipa, Beyoncé, among others. Cecille has had the opportunity to participate in some very impressive shows, touring throughout Mexico. Other notable events have been a duet with the famous singer Natalia Giméne in Jalisco and winning the Impulse awards for LGBTIQ Newcomer of the Year 2021.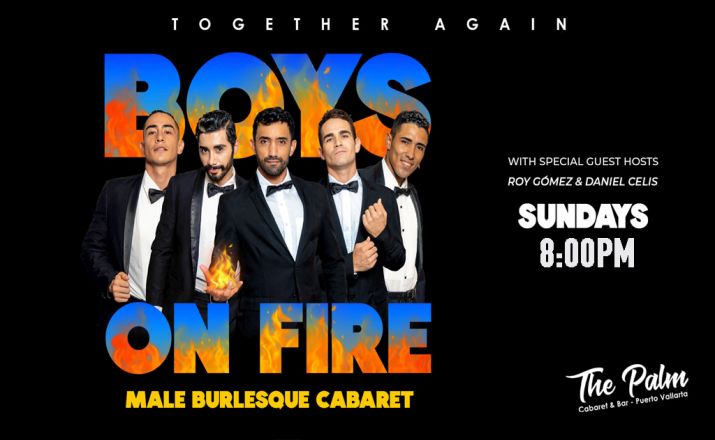 Sundays at 9:30 pm, Boys on Fire is one of the hottest tickets in town. This troupe led by Sebastian Coronel from Argentina brings together 5 gorgeous men and professionally trained dancers in an incredible all-male burlesque cabaret show. Emceed weekly by Roy Gómez (Freddy Mercury) or Daniel Celis (USTWO). Parental guidance is suggested.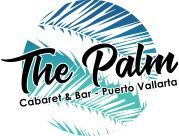 The Palm Cabaret and Bar is located at 508 Olas Altas in the heart of the Puerto Vallarta Romantic Zone. Tickets can be purchased at the venue's box office, which is open Tues-Sun at 10:00 am, or online at ThePalmCabaret.com.
For more information, click HERE, call (322) 222-0200, visit their website, or follow The Palm Cabaret and Bar PVR on Facebook.