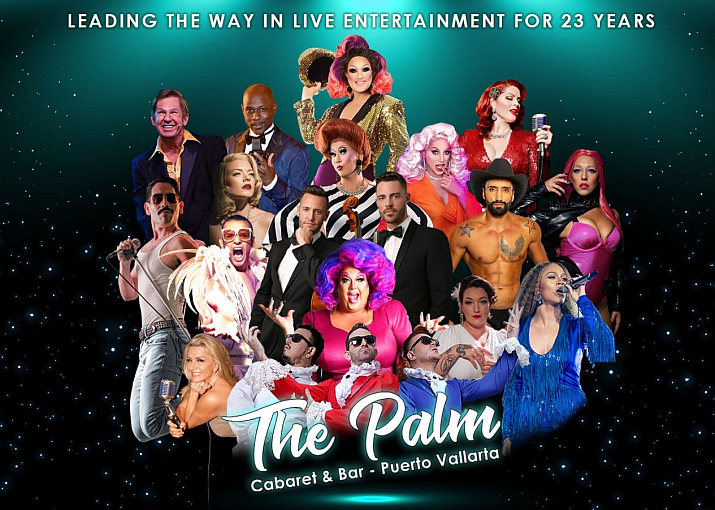 Puerto Vallarta, Mexico – The hits keep thrilling audiences at The Palm Cabaret with new shows and returning favorites in the month of April. The line-up includes some of Puerto Vallarta's favorite acts, along with an eclectic mix of professional shows performed by talented entertainers from around the world. It's been a phenomenal season of performances with most shows selling out consistently.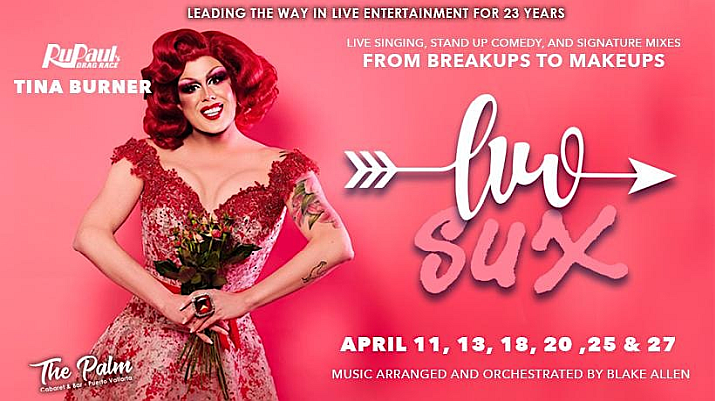 The Palm Cabaret welcomes drag artist Tina Burner and her show Luv Sux on April 13, 20 & 27 at 8:00 pm and on April 18 & 25 at 9:30 pm. Kristian Seeber, known professionally as Tina Burner, is an American drag performer most known for appearing in Shade: Queens of NYC and on RuPaul's Drag Race. She was a part of a boy band named 5th Ring. Tina Burner has been named National Miss Comedy Queen and competed on the 13th season of RuPaul's Drag Race, where she finished in seventh place. She also worked with fashion designer Nicolas Putvinski for a time. In 2022, Burner toured the world with their show, Witch Perfect with fellow RPDR stars Scarlet Envy and Alexis Michelle. Written by Burner, and writing partner Blake Allen, the show is a parody of the Disney movie Hocus Pocus.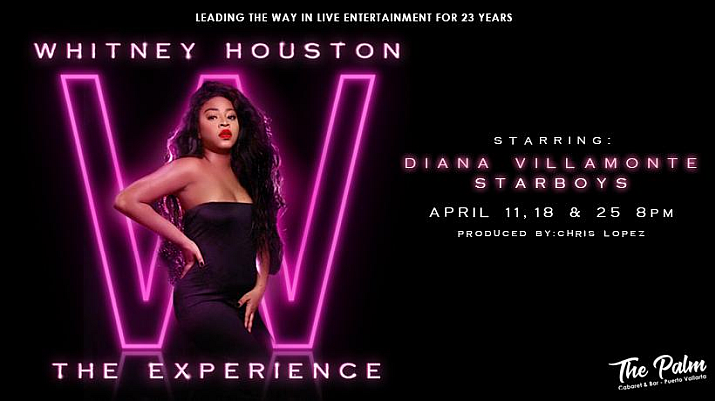 Beginning April 11th, make sure to catch Diana Villamonte in her Whitney Houston Tribute on Tuesdays, April 11, 18 & 25 at 8 pm. Diana has performed 7 seasons in Puerto Vallarta and is one of the all-time top-performing artists in town. A student of ballet, modeling, theater and voice since the age of 10, Diana Villamonte has won numerous competitions and was runner-up on the national TV show, The Voice of Mexico. Her Whitney Houston Tribute is simply phenomenal! Don't miss this incredible performance.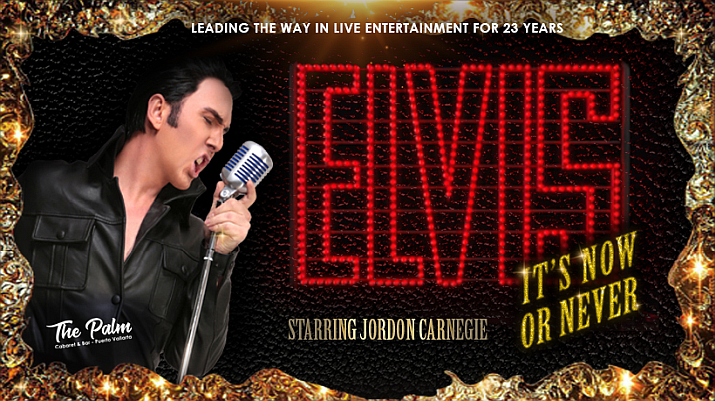 Elvis: It's Now or Never, a joyous and touching Elvis Tribute, debuted this season, and has been such a huge hit! The show returns every Thursday at 6:00 pm. Featuring iconic visuals, dancers, and an impeccable impersonation by singer/actor Jordon Carnegie, this show takes you on a journey through all decades of Elvis' career starting with the 50's and going through the 70's. Expect to hear all your favorite Elvis tunes and to be dancing in the aisles! Jordon Carnegie is a two time Broadway World Nominee for best leading actor in Chicago, and has been performing as a singer/actor for more than 20 years.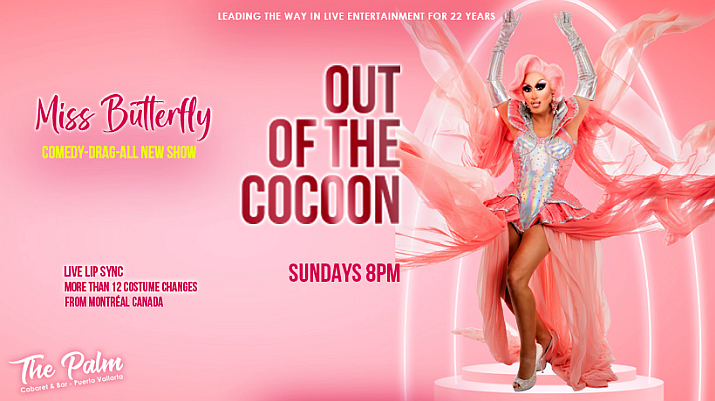 Miss Butterfly, a Montreal-based drag superstar, is celebrating 20 years as a drag diva. She frequently spends part of the year in Puerto Vallarta performing in the Blue Chairs area of Zona Romantica. The Palm Cabaret was thrilled to have Miss Butterfly's new show, Out of the Cocoon, debut this season. Don't miss Out of the Cocoon where you'll experience superb lip-syncing, 12 costumes, dancers, comedy and more, on Sundays at 8:00 pm.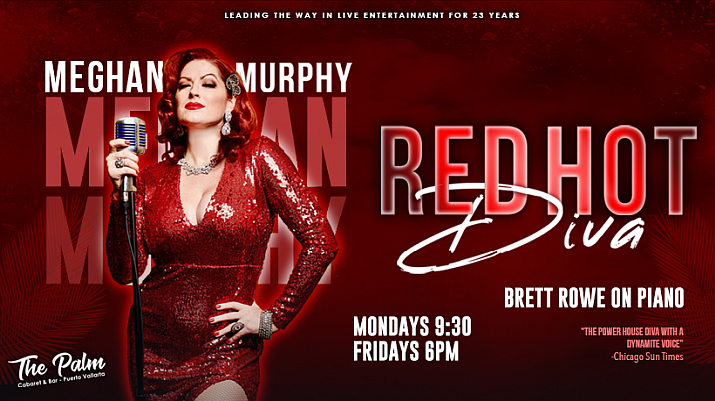 Meghan Murphy returned to The Palm Cabaret this season with her new show Meghan Murphy-Red Hot Diva. Affectionately known as "Big Red," Meghan took the entertainment scene by storm both this season and last! Before it's gone, catch Meghan's show on Wednesday, April 19 & 26 at 9:30 pm. Meghan Murphy-Red Hot Diva is a tribute to her favorite Divas – Judy, Liza, Barbara, Bette, Tina and more. Accompanied by the fabulous Brett Rowe on piano, her performance also includes 2 very hot, male dancers!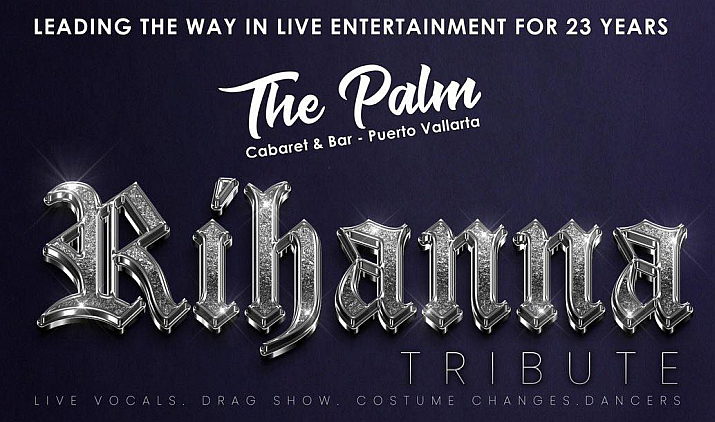 On Thursday, April 6 & 20 at 9:30 pm, experience the much-anticipated show, the Rihanna Tribute. From producer and director Chris Lopez with Cecille, (the drag artist who stars in the Beyonce tribute), you'll thrill to this emotional tribute with all-live vocals and incredible choreography and dance. After the success of the February 18 "Rihanna Super Bowl Half-time Tribute," the theater's technical team, the fantastic Starboys, Stargirls, and Cecille decided to premiere a full tribute show to the native singer of Barbados. Changes of costumes, identical representations, audiovisuals and outstanding choreography await as this new show is sure to become a late-season hit! Expect more Rihanna Tribute shows to be announced in May.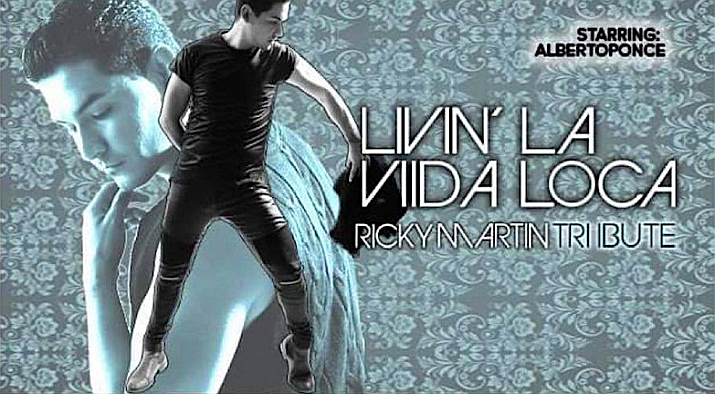 Alberto Ponce is very excited to debut his new show, "Livin' la Vida Loca, The Ricky Martin Tribute Show." Join him on April 28 at 8:00 pm for the Opening Night of this exciting show. Come dance, sing, and celebrate the incredible music of Latin Super Star, Ricky Martin, in a night of fun and enjoyment!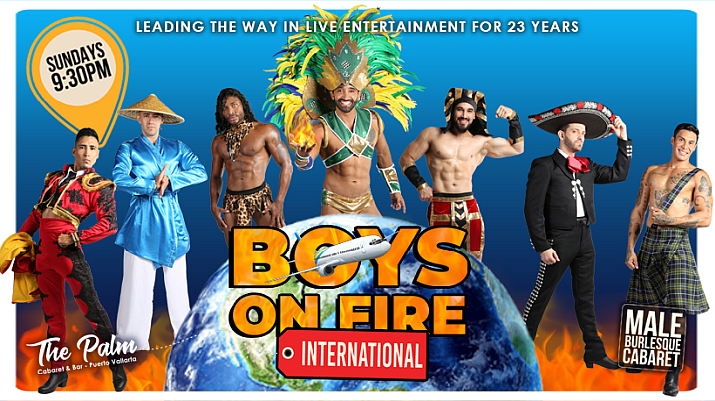 Boys on Fire International Edition brings together a cast of the finest men from Argentina, Mexico, Venezuela and Columbia in perhaps the sexiest male burlesque show ever. Sebastian Coronel has once again produced what is definitely the hottest ticket in town . This handsome troupe of dancers, singers and acrobats will take you on an enthralling adventure around the world celebrating beautiful men through music, costumes and dance. A show not to be missed. Parental guidance definitely suggested or even better, bring your parents. This show happens on Sundays at 9:30 pm.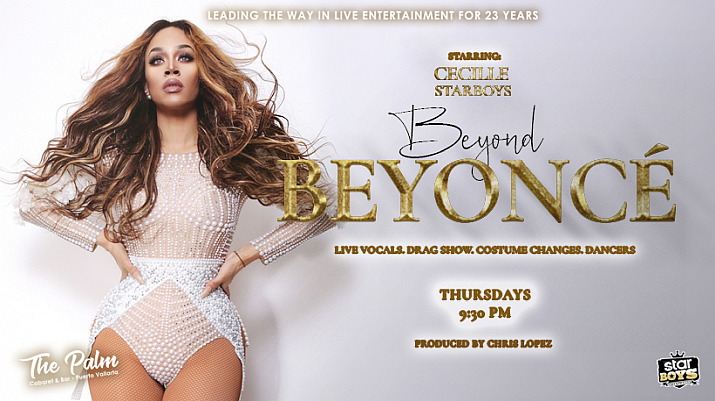 After being the finalist on the El Retador TV show, Claude Cecille André, decided to delve one step further into the entertainment industry and created the Beyond Beyoncé Tribute Show (produced by Chris Lopez). With a show full of slick original choreography, jaw-dropping vocal ability, phenomenal costume changes, plenty of audience participation and even a few added extra surprises for your viewing pleasure, I guarantee that this unique one-of-a-kind show will leave you mesmerized and in disbelief that you have been up close and personal to the next best thing to Beyoncé herself. Catch this fabulous performance on Thursday, April 13th at 9:30 pm.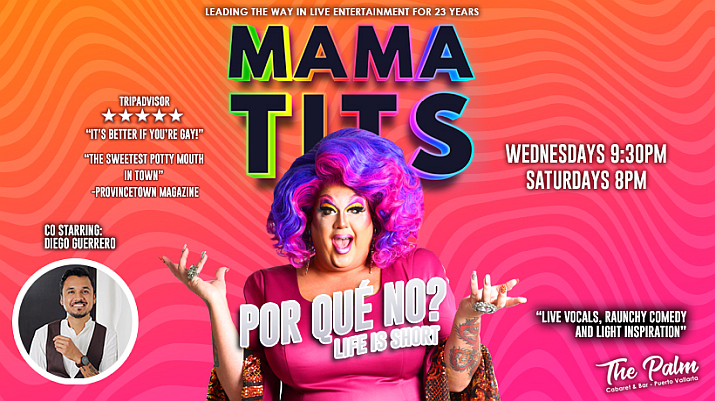 Mama Tits presents Por Qué No? – Life is short on Saturdays at 8 pm. "If life has taught us nothing recently it's that the world can change in an instant. So what are you waiting for?! Buy that outfit, go on that trip, see that show and spoil yourself! You're worth it!" – Mama Tits – Flamboyant, Soulful, Reflective, Defiant, Brave, Sexual and Always Hilariously Crass, audiences just love Mama Tits! Her show combines buttery smooth vocals with heartfelt stories and lessons that touch everyone willing to open their hearts and minds. Mamas' show is mainly geared towards the LGBTQIA+ audience while also making room for friends and allies. The language is R rated, but the show is L rated for Love. She's wickedly wise and oh so funny. And this Mama can singggg! With the addition of Vallarta star vocalist, Diego Guerrero, this show is a must-see!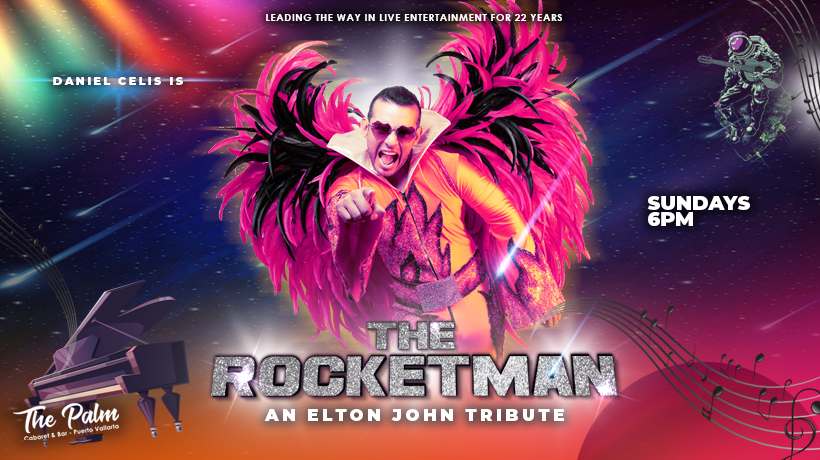 Daniel Celis presents his popular show, The Rocketman, featuring themes from Elton John on Wednesdays at 8:00 pm. Daniel always presents an exciting nightclub-style show that thrills his audience. You'll see new fantastic costumes, dancers, video enhancements and a professional, entertaining tribute. And you'll absolutely love his "Tiny Dancer."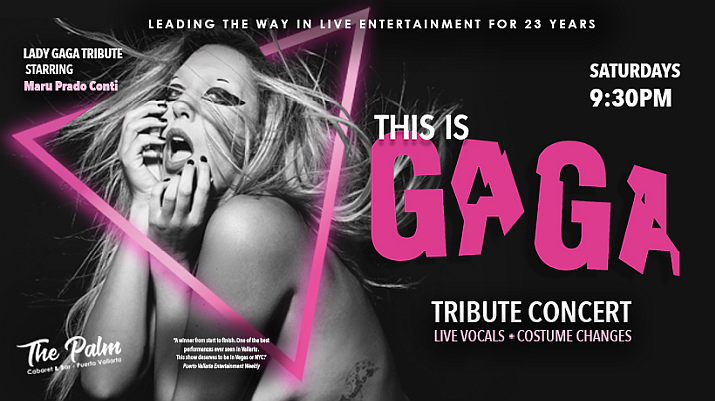 This Is GAGA starring Maru Prado Conti has been running for several years with sold-out performances for good reason. This high-energy performance is much more than just a tribute show. Maru and her dancers deliver one of the finest show ever to appear in Vallarta entertainment. The phenomenal success of this show continues on Saturdays at 9:30 pm. This show is a MUST SEE There is nothing like it anywhere!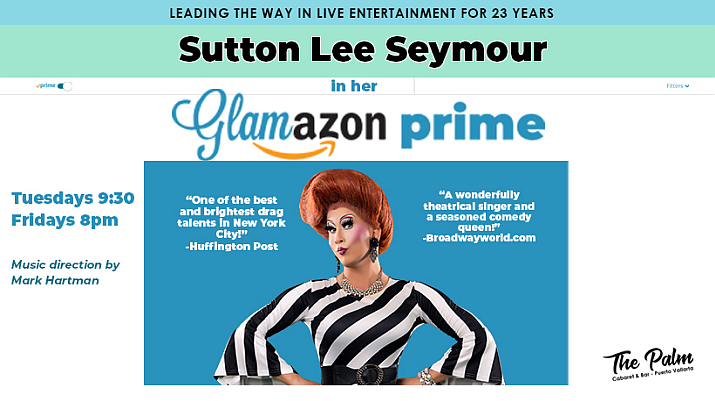 Sutton Lee Seymour debuted Glamazon Prime this season. Her final shows this season happen Tuesday, April 4 at 9:30 pm and Friday, April 7 & 21 at 8 pm. Sutton Lee Seymour is New York City's Live-Singing Comedy Queen of Stage and Screen, having performed with Atlantis Events on gay cruises and resort vacations, along with making appearances on Bravo TV's Watch What Happens and Live with Andy Cohen! She is very quick, sharp and theatrical and her singing voice is outstanding. She delivers a well-designed, top-notch show, as a skilled and totally adorable, musical theater professional. Seymour is outrageously funny, with a dramatic stage presence and a complete command of the production. She is beyond delicious as she sings, acts and communicates in a wonderfully engaging way. Glamazon Prime is sure to appeal to a wide audience. You'll leave the show a little in love with this gal!
There is also a Magic Show on Thursday, April 27 at 9:30 pm and a Ricky Martin Tribute on Friday, April 28 at 8 pm with details to be announced.
Make sure to keep up with the latest show info at ThePalmCabaret.com.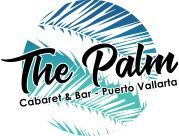 The Palm Cabaret and Bar is located at 508 Olas Altas in the heart of the Puerto Vallarta Romantic Zone. Tickets can be purchased at the venue's box office, which opens daily at 11:00 am, or online at ThePalmCabaret.com.
For more information call 322-222-0200, visit their website, or follow The Palm Cabaret and Bar PVR on Facebook.